Adam Spencer: A CEO Extraordinaire, Creating Ripples of Change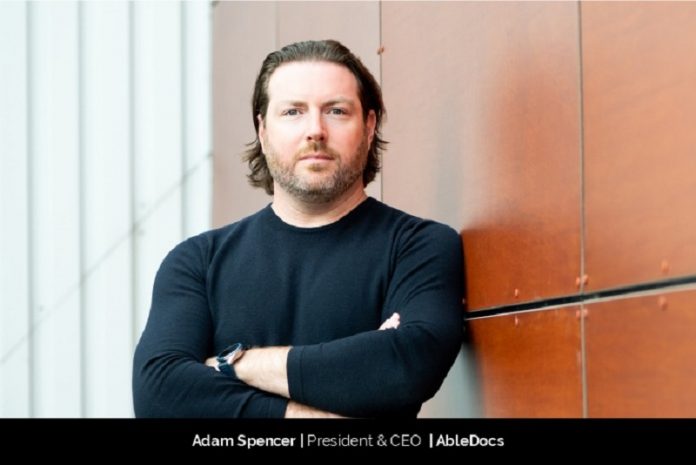 How often does one come across a CEO who believes taking ego out of business is a critical concept? What would it be like to be a part of a company that recognizes its team as a family? Imagine, for a moment, the sheer joy of working with those who welcome every contrasting thought and opinion as a parallel universe full of possibilities! Have you ever been associated with an organization that persuades you to be the best possible version of yourself? When you first meet Adam Spencer, what strikes you most is his assertive authenticity and raw honesty. Here is the CEO of AbleDocs, who is as vocal about his weaknesses as he is about his strengths, and probably that is the reason for his sparkling success and accelerated growth.
AbleDocs- Cradled in Knowledge and Hope
Hailed as the worldwide leader in Document accessibility products and services, AbleDocs operates from three continents, six countries, 11 offices and uses 49 languages to serve its clients across the globe. Founded in 2019, it has garnered immense success and praise for its quality work and services. Creating an equitable and accessible digital presence is its forte, and companies worldwide have profited from its impeccable software solutions.
Adam Spencer, The CEO and the President of AbleDocs Inc, is the epitome of perfection, empathy, and innovation. AbleDocs sprung from his extensive experience with document accessibility for nine years and a strong realization of the huge industry gap therein. With this gap in mind, the next logical step was to create a road map for AbleDocs, which would become an innovation in the digital world.
Great choices and consistent hard work of the entire team have enabled AbleDocs to become a leader in the digital realm. The software solutions offered by AbleDocs, allow companies to create and distribute compliant and accessible PDF documents. The idea behind the whole concept is to ensure barrier-free accessibility and equal access to content. The company's success can be gauged from the fact that it has already expanded to 9 countries, a fine synthesis of consolidation of industry and thought leaders.
A leap of faith and little love
Adam Spencer took more than a leap of faith to create AbleDocs. But, it was his unparalleled belief, a strong sense of the market, love for his work, profound knowledge and experience that weaved together to create a string of pearls called 'AbleDocs.'
Being a serial entrepreneur with a solid intention to contribute to the world of digital information accessibility, Adam Spencer's vision for AbleDocs materialized as an answer to strong market need and a leap of faith propelled by his wife's confidence in him. The prior experience of starting companies also paved its smooth foundation and functioning.
The Face of Success-Weathering the storm
What does success look like for Adam Spencer? The idea of success for him entails completing a set task/ goal by the team and, in turn, the company's growth. At the same time, he also believes that unparalleled experiences and everyday challenges are very much a fabric of a great company. Only with team solidarity and a great work ethic can one achieve the zenith of success.
AbleDocs has significantly flourished from the business perspective even amidst the pandemic. When asked about this seemingly surprising fact, Adam shares how the company's unprecedented growth rate can be ascribed not only to doing the right things at the right time but also sharing a deep interest in the well-being of all team members, especially amid a pandemic.
Adam ensured that people had access to mental health resources and a strong sense of connection, compassion, and empathy for each other during those difficult and unforeseen times. This focus on mental health and understanding the need for mental breaks created an environment of care, credibility and understanding among team members. A simple question like, "What can we do to support you in these unprecedented times?"
This speaks volumes about the kind of company AbleDocs is; and how healthy and happy relationships are the cornerstone of its great success. When a team has weathered the storm of a Pandemic together and still managed to stand tall among the world giants in the digital realm, something is beautifully right with their world.
Embracing Challenges- The Way forward
'I have learnt more from my failures than I have from my successes. Adam believes that there is great strength in adversity, for one can't imagine reaching the zenith of success without bearing the pains of being at nadir. He ascribes everything he has learnt to hard times. He knows how significant it is to learn from past challenges and find a way to tackle them. To quote him, "CEOs get caught in their hubris rather than seeing what end goal needs to be."
Challenges do not deter him, for he is a man who has the courage and conviction to say that AbleDocs is not about corporate profitability or the next headline or limelight; but aims at coming and creating together. In his opinion, it is vital to take a step back now and then, to focus on critical areas and find solutions amidst challenges.
Redefining the Growth
Integrity and innovation are at the heart of the growth of AbleDocs. A great leadership team that is mindful of its clients" needs and cross-cultural contexts is an excellent resource of the company. 'Growth' happens naturally when there is a sense of belongingness among the team members, who know that at the end of the day, when the company wins, they win too. A strong leadership team supplements the company's goal of ensuring barrier-free access to all digital information to create a feeling of cohesiveness among all.
We love competition!
In what may come as a surprise to many, Adam Spencer confidently remarks, "We want more competition as it drives greater awareness."
When questioned about the growing competition, he considers it a necessary element as it prompts them and others to rise to excellence. Happy with the current performance of AbleDocs, he shares how more than three billion PDFs are generated every year and how they have been successful in creating document compliance and accessibility almost flawlessly. He points out, "We have our fingers on the pulse of what is going on in our space." Their work strategies include a multinational approach, proactive participation in conferences and visibility and contribution in community spaces.
A Normal Day in the Life of an Extraordinary CEO
Discipline, Focus and Enthusiasm – the values that drive a typical day in the life of an extraordinary CEO. Being extremely organized, Adam starts his day working on the two most significant aspects- tackling what already exists and fighting for the things that are amiss. In addition, an inner drive to pull the company in a strategic direction informs most of his decisions and actions on a typical day.
He acknowledges the role of support in creating any great company and talks about how external support often comes from family, friends and team members. He places great value on one's own internal support, belief, conviction, desire, and ability to stretch beyond one's comfort zone. Now and then, he showcases how he is essentially a 'People Person' and would give anything to see his 'AbleDocs' family succeed and prosper. To quote him, "People's well-being matters to me personally and professionally- I am never too busy to have a call with my team."
A steadfast leader, showing the direction to everyone around him, even in the most turbulent times- Adam is indeed a visionary leader. He likes to live by classic principles and values of kindness, compassion, integrity and teamwork.
The Personal and The Professional- A balanced approach
A planner and a scheduler, Adam strives to seek a balance between his personal and professional life by scheduling every single thing. He uses Outlook profusely and takes time out for his family. With their first baby on the way, Adam ensures that he spends quality time with his wife. He is a loving being at heart; he is crystal clear about his priorities and philosophy when he voices.
"There is no point in having a company if you don't have people to share it with."
Moments of Pride
Talking about his incredible journey so far, Adam recalls how one of the things that made him proud was signing Mike Paciello as the Vice President of US operations. Having great leaders and visionaries like him on the board was a sure sign that the company was headed in the right direction. Apart from this, he also feels delighted about all the small every day wins of his team, which are the direct consequence of the endeavours and diligence of his entire team.
Down the Utopian Lanes- The Future Vision of AbleDocs
"Your vision is only a part of the journey"

– Adam Spencer
Adam has a crystal-clear vision for AbleDocs' future growth, enabling its wings to unfold and touch the sky. The wonderful thing is that he knows that 'vision' can only be realized when you have 'people' vouching for your dreams as their own. He intends to use innovative and new technologies every step of the way so that the company's products and services are aligned with future needs. Another strategy is to keep pushing digital accessibility for all and commit to reinvestment in development. Accelerated hiring of innovative developers is another strategic tool, which would contribute significantly to the company's overall growth.
He remarks how his intention is to be constantly surrounded by people who will push and challenge you and offer out of box ideas and confrontations, as and when needed. This will facilitate a holistic perspective and drive needed change within and outside the company. In his view, it is always great to find a quicker and better way of doing anything, something which can only create an environment that allows people to be themselves and voice their ideas freely.
Cherishing and nurturing a deep-rooted desire to continue the same growth curve in the coming years, Adam knows that the road ahead is long. He knows there is much more to do, build, and create equitable and barrier-free access to digital information. Even though his eyes are set on the sky, he is firmly rooted in the earth. He knows the significance of having the right people by your side- something he achieves almost effortlessly, with his kind commitment to his team and treating them as nothing else but his own family. He also says he intends to "provide home for people who believe in the digital accessibility and wishes to 'fulfil their dreams in this space."
Listening to his marvellous stories of innovation, clarity, courage, compassion, leadership and hope, we can only say in awe- CEO, Extraordinaire!
About This Article:
A Life Worth Living has copied the content of this article under fair use in order to preserve as a post in our resource library for preservation in accessible format. Explicit permission pending.
Link to Original Article: https://cioviews.com/adam-spencer-a-ceo-extraordinaire-creating-ripples-of-change/