A high-profile leader reveals his disability to help others have a more empowered voice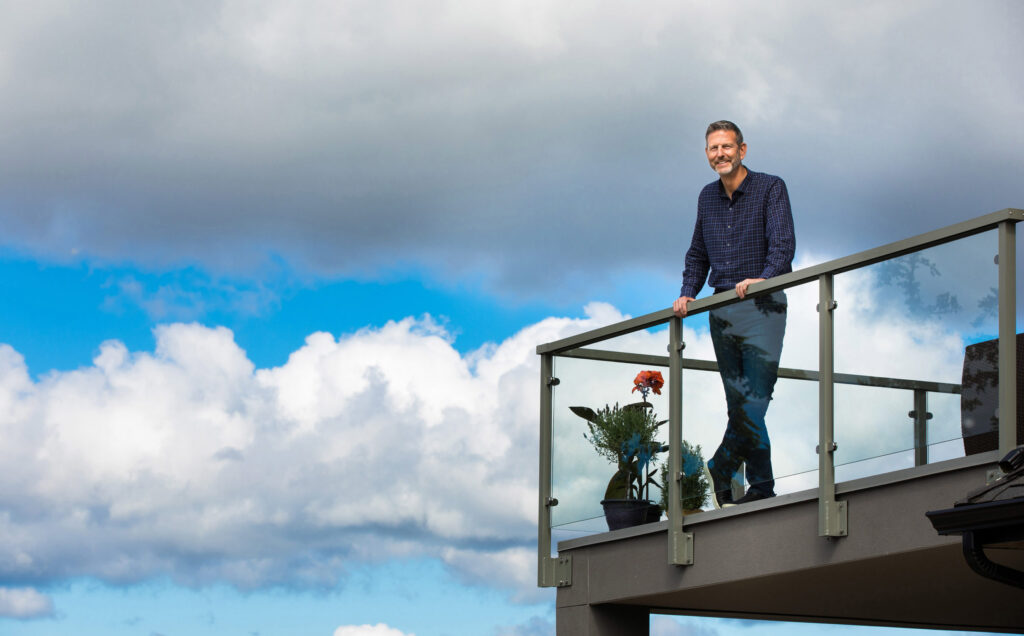 By Vanessa Ho | Microsoft News 
As a human resources exec, Chuck Edward has long championed the voices of others and encouraged their stories. He has traveled globally, from India to Romania, with thoughtful advice for employees and job candidates to be vulnerable, open-minded and authentic. He's a well-known, compassionate mentor who enjoys coaching people and shaping an inclusive culture that gives everyone "permission to be real."
But Edward, a Microsoft veteran of nearly 16 years, has largely muted his own story. While mentoring and encouraging employees with disabilities to "have a voice" and "leverage their backgrounds," the corporate vice president has kept his own disability, diagnosed eight years ago, mostly hidden.
That's changing today, with Edward publicly revealing that he lives with multiple sclerosis (MS), an unpredictable disease of the central nervous system that affects an estimated 1 million people in the U.S. He is disclosing his disability at the Ability Summit, an annual event focused on inclusivity and accessible technology for Microsoft employees and the disability community.
"It's been a deep, deep emotional journey," says Edward, who leads Human Resources for Microsoft Cloud, AI, Corporate Strategy and Core Services Engineering and Operations. "If my story makes it easier for even one person to have a more empowered voice for themselves, that's great. If we all can get to a place where we feel better about our voices and our imperfections and who we are, that's a win."
Before today, he had often questioned himself: His disability wasn't apparent, so why tell people? He didn't need accommodations, so why reveal? The longer he stayed silent, the more hypocritical he felt. The more open he wanted to be, the more awkward he imagined the disclosure. He often stopped himself from revealing the secret perched at the tip of his tongue, because the message "wasn't big enough."
"I started to get in my own head and think, 'Why bother? Why on earth do I need to bring this up? I don't want people to look at me differently. I don't want people to feel sorry for me.' It was all me, me, me, me, me," Edward says.
His disclosure is a big step on a long path that began in 2011, when he began having tremors in his legs and hands, often while speaking in front of large audiences. He thought it was just the excitement of taking on a larger role at the company, but the symptoms persisted on and off, along with facial numbness and brain lesions detected in an MRI scan. It took his doctors 18 months to diagnosis him with MS in 2012.
"The only time I've ever cried about it was that first official diagnosis, because it felt so, so uncertain," he says. "I remember being in the car in the parking lot with my wife. It was a moment of, 'How bad will this get?' And you go to this place of expecting the worst."
He wondered when he would start stumbling and need to sit while giving presentations. He worried about the day he would no longer be able to play with his kids. That day hasn't come because he started an aggressive treatment in the form of daily medication that has helped him remain largely symptom-free.
But Edward still needed time to cope with the distressing limbo he lived in, in which he mentally scanned his body daily for signs of the disease. He needed rest while charging ahead with a rising career. He wanted self-preservation while peering into the unknown and privacy to grieve the loss of predictability.
So for the first seven years of his diagnosis, only his wife and mother-in-law knew. He told his two teenage kids just last year. He has told only a handful of people at work, some just recently.
"Chuck wanted to know what his own journey was going to be like first," says his wife, Nikki, who often encouraged him to let more people in. But despite his deep compassion for other people, she says, he needed to know that people have compassion for him too.
"He's complicated," she says. "He's not afraid to express vulnerability, and he's very empathetic. But it took him a long time to understand that people still see you as the same person, because your disability doesn't define you."
Edward knew he wanted to help people living with MS and other disabilities, even while staying private about his diagnosis. Through Microsoft's employee giving program, he began donating to the National Multiple Sclerosis Society, an organization that funds cutting-edge research, drives change through advocacy, and provides programs and services to help people living with MS.
In 2018, he joined the board of trustees for the National MS Society's Greater Northwest Chapter, where he immersed himself in fundraising and raising awareness. He also took a leap in revealing his disability to other board members.
Around the same time, he volunteered to oversee a large resource group for Microsoft employees with disabilities. Very few co-workers knew he had MS; most just saw him as one of several Human Resources leaders each sponsoring an employee resource group. But Edward found the relationships enriching and eye-opening.
"Getting to know people in my group disarmed the word 'disability' for me," he says. "It made it more empowering for me, because I see how able people are, full stop. How much they add to our company and society. I see the power of having community and relying on each other to create stronger voices, empathy and sensitivities."
It wasn't until last year that Edward identified as a person with a disability — a major moment achieved in a basic checkbox. In previous years, he had ignored a voluntary, anonymous form that asks employees if they want to disclose a disability. But this year, he pondered it. "I thought, 'Let me see how I feel about this,'" he says. "Then I'm like, 'I'm going for it!' I checked the 'yes' box, and it felt OK."
As he grew bolder in disclosure, his work façade — encouraging people to reveal their disabilities while hiding his own — gnawed at him. He was empowering people to "own" their unique voices, disclose their disabilities to their managers and leverage their experiences and perspectives.
"And yet in every one of those messages, I was holding something back myself: my own story," he says. "There was a hypocrisy to all of this, and that's why I'm so excited to get to this point in my journey."
He credits Nikki, his wife of 22 years, and Laurie Johnson, a close friend and president of the Greater Northwest Chapter of the National MS Society, for helping him reach this milestone.
"Laurie helped me take my diagnosis from deep personal grieving to realizing I have a voice in a story I could tell to help others, and that I did want to help others with their journeys," Edward says. Microsoft's increasingly inclusive culture — from vibrant employee resource groups to previous disclosures of leaders with non-apparent disabilities — also emboldened him.
Edward knows that every journey is different and that many people don't have the choice of concealing their disability. He sometimes feels guilty that he's faring better than many people living with MS. His story has been bumpy and is still unfolding.
But he has learned to be kinder to himself. He sees his disability as a strength that makes him a more empathetic leader. It's a powerful motivator to exercise, manage his energy and rest when he's fatigued after a long flight. His MS makes him passionate about doing his best work and helping others do the same.
"Given the tenure I have with the company and role I have as a corporate vice president, I understand the responsibility of senior leaders to share their humanity and empower others to have a voice," he says. "It's my turn to do that for people."
He often asks people to share their stories and believes his story can help people be more open and vulnerable — leading to richer conversations and relationships.
"We all have to get better at being vulnerable and giving ourselves permission to ask for help," he says, even when it feels awkward. "We have sayings like, 'Get comfortable being uncomfortable,' and 'We're all imperfect,'" because they lead to opportunities to learn, grow, take risks and be more empathetic. "There's beauty in that."
Greater Northwest Society president Johnson says Edward's disclosure can help transform workplaces for people living with MS, half of whom leave the workforce within the first year of diagnosis. It also helps all people with a disability feel less alone.
"As human beings, we are hardwired for connection to other people who understand our experiences," she says. "I hope that anybody who's hiding a disability will see themselves in Chuck's story and feel confident to not hold their secret too deeply."
Johnson feels honored to be on the journey with him, having watched him transform shock and grief into acceptance and empowerment. She's excited to see where he will go next.
"The last five years of the MS movement have seen as much progress as the 70 that preceded it — because of people like Chuck who inspire others with their stories," she says. "I'm really proud of him and feel like he can make a difference not just at Microsoft, but in the world."
Lead image: Chuck Edward, corporate vice president of Human Resources at Microsoft. Photos by Dan DeLong.
About This Article:
A Life Worth Living has copied the content of this article under fair use in order to preserve as a post in our resource library for preservation in accessible format. Explicit permission pending.
Link to Original Article: https://news.microsoft.com/features/high-profile-leader-reveals-disability-helps-others-have-more-empowered-voice/