Why technology companies need to adapt for seniors
By Sarah Botterill | Ability Net, December 14, 2020
Older people have embraced technology during the pandemic; now tech companies must embrace them, say experts at the International Longevity Centre's (ILC) Future of Ageing Conference 2020.
Older people have turned to tech during the health crisis, figures from EY reveal. "People over 55 are using technology far more than they have in the past," said Shaun Crawford, Global Vice Chair of Industry, EY.
The survey found that during the pandemic, 36% of all respondents had tried video calling for the first time. The adoption of online shopping had been highest among those over 65.
People have also used existing services, more.
"Forty-five per cent of all households have used the internet more often for browsing; 41% have made more group video calls since the crisis began," said Crawford.
One in five of over 65s have also increased the number of phone calls made.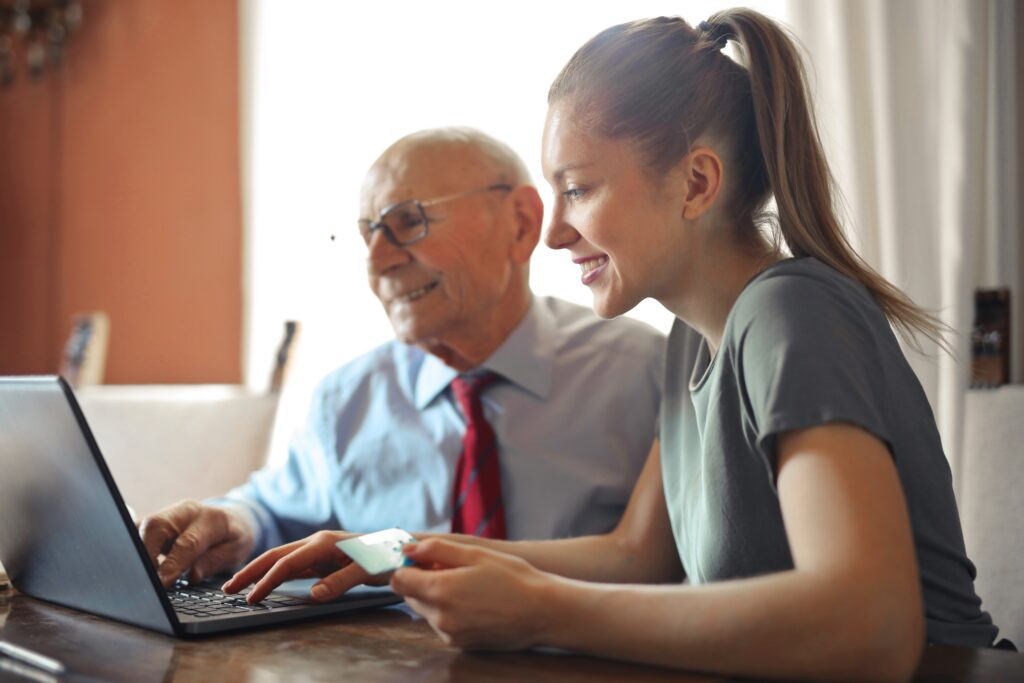 Cross-generational communication needs
The need for communication has been heightened during this time of physical distancing. Older generations want to feel connected to grandkids.
Caribu is an app that enables multiple generations to interact and play games and has just been named one of Apple's top apps of 2020.
"We bring families together through virtual playdates. So, we allow grandparents to read, draw, and play games in a video call with their grandkids, no matter how far apart they are," said Maxeme Tuchman CEO and Co-Founder of Caribu.
"Grandparents are having the most difficulty with the pandemic, not being able to see their grandkids. We had a grandmother in Canada whose grandkids are in the US, and she was starting to get depressed because of the social isolation."
Using Caribu, they were able to connect. "She said that Caribu lit up her world and that it was a game-changer for her and her family," said Tuchman who says they have seen a ten-fold increase in usage of their app as a result of Covid-19.
The app has customers in over 100 countries.
Supporting people with tech in care homes
Technology also has a key role in connecting people in care homes, said fellow panellist Jisella Dolan Chief Advocacy Officer for Home Instead. "We know the importance of connecting with their families, their children, and their grandchildren, and the ability of our home care services and technology working together," she said, adding "Our motto is 'relationship before task'."
"Like everything in the world, we see the digitalization of our industry. We're testing models of delivering tablet-based care in the home. So, it's ways for people to do video chats, virtual chats, listen to music, radio, read about the news."
Home Instead has been delivering this through the GrandPad, a tablet designed with the elderly specifically in mind.
Tailored solutions for older people
Both Caribu and Home Instead have learned the importance of technology adapting to the specific needs of older generations. Caribu works directly with older people and coined the phrase 'Glam Mas' to describe their typical service user.
"We had to meet grandparents where they were; they were on the web. They want to see things bigger, right? They want to have that full experience with their grandchild. The grandchild's running around with a phone, but they wanted on the web," said Tuchman.
Caribu also needed to adapt its approach to customer support. "We had to install a phone number because we couldn't rely on the FAQ. We realized a lot of our grandparents didn't know the question to ask. They didn't know is it my router? Is it my Wi-Fi? Is it my operating system? They just didn't even know that those words existed," explained Tuchman.
With GrandPad the technology that has adapted to the specifics of ageing, as Dolan explained.
"As we age, our skin on our finger changes so older people can struggle on an iPhone. [One of the reasons we work] with GrandPad is it has a set of 'super seniors' on their board in their eighties and nineties that inform them and pilot and test the GrandPad and get feedback."
It's not only the screen that's an issue, but the super seniors also revealed that a long cable made it difficult to charge the device.
Caribu is similarly looking to build a panel of seniors to inform product development.
Others would be wise to follow suit, said Dolan. "In the US, women in their 40s to 70s will manage most of the GDP of America for the next decade. So, if you're in business and offering services and products, you should probably be thinking about what they might want," she said.
"Let's think about how we connect with seniors. And I would suggest do like GrandPad and bring in older people and bring younger generations in to connect with the older generations so they can empower and share as well."
Read more about the Business Case for Accessibility.
Further information and support
Download Caribu for Android
Download Caribu for iOS
GrandPad: Tablet for the elderly
About This Article:
A Life Worth Living has copied the content of this article under fair use in order to preserve as a post in our resource library for preservation in accessible format. Explicit permission pending.
Link to Original Article: https://abilitynet.org.uk/news-blogs/why-technology-companies-need-adapt-seniors?fbclid=IwAR2gYILJkVsYgevQOLAsX6MIiB3rnnLLPBB410i7U2s3RXPeZfyfeD2tJFE