Sacrifice and Strength: A Mother and Daughter's Journey Through SCI
By Cassandra Brandt | New Mobility May6, 2022
Rebuilding a life following a high-level spinal cord injury is never easy. For Cassandra Brandt, a single mother, and her daughter Haley, America's worsening caregiver crisis forced them into a situation that no family should have to face.
By Cassandra Brandt and Haley James
Cassandra: The summer my daughter and I were 13 and 32 our lives were swept out from under us, and we were left struggling to adjust to unimaginable change.
I was a single mom putting myself through university by night and opens in a new windowwelding by day. I wanted to be a writer, and I was passionate about politics; I wrote poetry and petitions. I enjoyed my solitude and loved hiking, and I loved being the fun mom — shopping sprees, weekends at the beach.
She was a small town seventh-grader, a vegetarian with a passion for animals and the planet, goofy with her best friends and growingly pensive. She was coming of age, and we were living on the road for my structural steel career. 
Then I was the passenger in a car accident that crushed my C4 vertebra, leaving me a quadriplegic. After the accident, we moved back to my hometown. 
Haley: When I received the phone call saying my mom was in an accident, I fell to my knees and struggled to breathe in a panic. I will never forget looking up and seeing the helicopter that carried my single parent away to another city. When I saw her again, she was hooked up to what seemed to be dozens of machines.
I had never witnessed my family feeling so sad and helpless. I felt as if it was my duty to be strong for them, to allow them to weep upon my shoulder. I did my crying in the comforting presence of my dog or in the isolation the shower provided. When the doctor told us there was a 95% chance my mom would never regain her lost function, it felt like a dark shadow had crept over my family and invited itself into our hearts. I realized everything was going to change.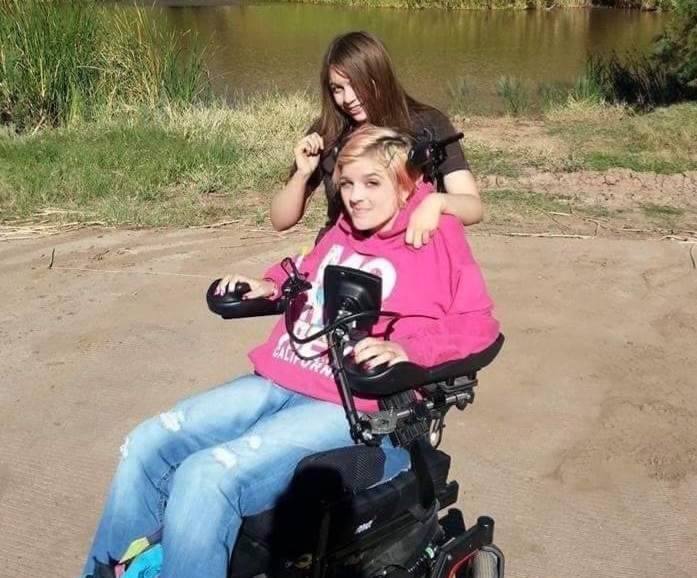 Cassandra: After a couple of months in rehab and a nursing home, I was determined to go back to my life in any way that I could. I learned to type with my mouth and drive a power chair with my head. It was vital to me that I keep my daughter close and continue providing for her. That kept me going as I began adapting to this new life. 
Although I'd had a good career as a tradeswoman, my disability checks didn't cover much more than rent. I tried to employ caregivers. The state paid for 40 hours but only $12 an hour. I had a few friends take the job, but no one was reliable. There were opens in a new windowno caregiver agencies in my rural hometown. My parents weren't in a position to help, either — I only had my daughter and my brother. He'd been living out of state but hurried home after my accident.
For the first five years, the three of us lived together. My brother burned out on my care during the first two tumultuous years. The majority of my care fell on my daughter. She would wake with me at night, get me ready for the day in the morning, and stretch my arms and legs every day after school. My life revolved around stressing about who would come to get me up or put me to bed, or if I was going to have to ask my over-worked daughter. 
Haley: Although my uncle did most of my mom's care in the very beginning, he was constantly making me do chores. He was very demanding and became verbally abusive if I did not do things to his exact liking.
My mom was hardly conscious those days, often only awake to watch a movie with us every 24 hours. I could still be a kid at school, but I dreaded the weekends at home. Things had gotten so bad that I began to hate myself and started self-harming. 
By the time I was 15, I was helping my mom for about two hours each morning that I did not have school. At age 16, I had started doing all of my mom's care alone, except for the occasional caregiver.
I finally stood up to my uncle, but by then, it was too late to stop the built-up resentment I felt toward my mom. My patience had worn off, and my mom and I often argued. I felt as if she didn't care about me the way mothers should and only wanted me around to use me. I thought she always put herself first because I had to base my entire days around her care. I had no energy and bad back pain. 
When I was 17, I switched to alternative schooling. Going to school all day and still being able to take care of my mom's needs was too difficult and time consuming. I didn't see the point in trying to achieve good grades. I felt like I would be caring for my mom for the rest of my life and wouldn't have time for a career.
Cassandra: Allowing my daughter to take on all my care is something I deeply regret. She sacrificed and endured so much, and our relationship suffered. I worried moving into a care home would render me unable to help my daughter, and she wouldn't have a consistent, decent place to stay. I told myself we were taking care of each other, a statement that maybe stung her because I hadn't really taken care of her in a while. I bought what she needed and usually what she wanted. I kept a roof over her head and fed her. I helped her with homework. I counseled her about boys. Sometimes I still took her to movies, concerts and the river. But she brushed my teeth and washed my face. She combed my hair, wiped my butt, dressed me, hand-fed me, stretched my arms and legs, woke at night for me, ditched school for me and canceled plans for me.
Haley: Without being able to express her love physically, my mom struggled to show her love for me. I developed problems, drinking way too much alcohol, experimenting with other drugs and spending time with boys who didn't respect me. When I got pregnant at 17, I felt as if a rainbow of love and meaning had swept me off my feet. I was finally going to feel and give love in a healthier way. After years of fearing the future, I had one to look forward to. 
When I miscarried, my mom tried her best to be there for me and tend to my emotional well-being, but I was depressed. Drinking became an everyday thing. My mom was depressed too and felt like a failure as a parent. I would see her staring into the distance, wishing things were different. I cried for her pain. I craved her embrace. 
Cassandra: Often my daughter felt I was being selfish. She lashed out at me — partying, drinking with boys and rebelling. She was sacrificing so much, her grades suffering and ambitions lost. She was crying out inside for a break, for hope, for a future, and I was denying her that. My guilt drove me to depression.
She never refused to care for me. She might have had an attitude, might not get me up or down precisely when I wanted her to, but she never made me suffer or neglected my needs. My care took hours every day. She usually did it dutifully — though tiredly — and we'd talk or listen to music or books to pass the time. She did it exhausted many times and drunk a few. Sometimes we were both in tears. 
She trained one caregiver after another. Sometimes they didn't even come back the next day, taking advantage of my daughter, knowing she wouldn't leave me hanging. I would often wait on them until noon, then break it to my daughter that I needed her after all.
Separate Paths, New Hope
Cassandra: At 18 and 37, my daughter and I moved apart. I had seen it coming because she planned to go to college, and I was determined not to hold her back from anything. It happened more suddenly than we had expected, though. 
I never wanted her to choose between caring for her mom and her child, so when my daughter got pregnant again, I began looking for group homes, and my daughter and her boyfriend started looking for their first place. The group homes all had waiting lists, so I called skilled nursing facilities and was finally accepted by one. It was the first summer of Covid and I could only have visitors at my window.
Haley: I had sacrificed so much to keep my mom from going into a care home, yet it was happening anyway. I cried myself to sleep when we separated. I felt as if all of the effort to keep her living in her own home had been for nothing. I was so angry at myself. My mom did not deserve this. 
The day before she went into the nursing home, we found out I was having a baby boy. The news brought us so much joy during this hard transition.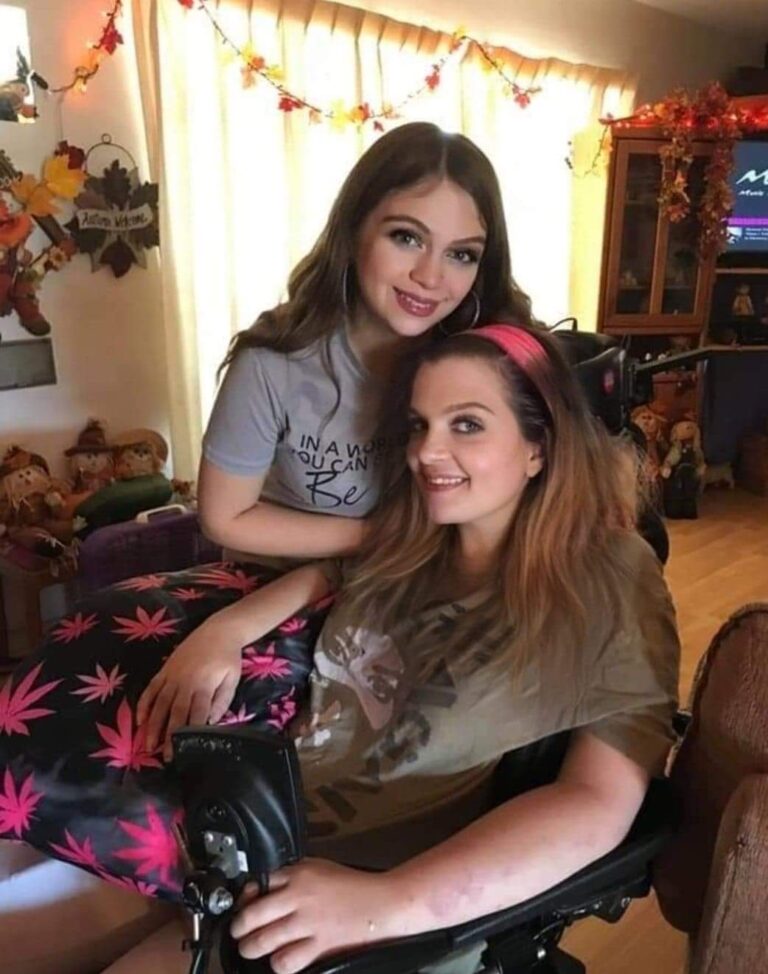 Cassandra: My daughter brought our dogs to see me and showed me her baby bump through the glass. We watched movies together by pressing play at the same time. It was tough to get timely and thorough care in the understaffed nursing home. I missed my daughter's efficient hands. I missed having someone who loved me performing my care. Mostly, I missed her company. Still, it was a huge relief to think I was no longer a burden to her. She would not have called me that, but living in the nursing home made me even more aware of the magnitude of her sacrifice.
After two months, I got into an assisted living home and a year later, a private room in an excellent group home.
Haley: My mom and I no longer argue, allowing our hearts to work on healing from the damage our relationship suffered. We plan on always living near one another, and I plan on always helping my mom while still having the life that I desire. A few years ago, I would not have imagined both of us becoming more mentally stable, happy, and working toward our own goals. 
I admire my mom for being strong-willed, passionate, silly, rebellious, educated and a very hard worker. I hope to carry on those qualities. She pushes me to accomplish my dreams and encourages me not to give up. She still helps me in any way she can, whether talking to me when I need someone or helping with groceries. She is my best friend, my rock and the greatest mom I could ever ask for. 
Cassandra: My daughter and I are both starting college online and setting goals high. She's got a toddler on her hip and the title to her first home. I'm grateful every day that she has a good man to help her survive out there without me. She's got a good head on her shoulders, but I want her loved and cared for. My daughter is an amazing mother like I knew she would be. The hands that diligently cared for me for five years now care for her sweet little boy. They still care for me too, though. She works weekends at my group home. 
I miss sharing a roof, but it feels amazing knowing I'm no longer a source of stress for her. There's still trauma to process and guilt to work through. I do feel like I failed her sometimes, like maybe being together wasn't worth what I caused her. I wish I had done a lot of things differently. I should have dragged her to therapy. At the very least, I should have never made her feel under-appreciated. I imagine the crushing weight on her shoulders and wonder if she ever just wanted to scream. 
I am so proud of her — of who she is, what she's done for me and the person she's becoming. She's a tough cookie. When I think of grit and resolve, I think of her.
I know I'll also always cherish the thousands of mother-daughter conversations that we had in the most unconventional mother-daughter situations during my daughter's teen years. Every day of my life I'm glad I didn't die in that crushed car and I'm still at her side today. At 39 and 20, I'm a better mom today, and she's my closest, dearest friend.
About This Article:
A Life Worth Living has copied the content of this article under fair use in order to preserve as a post in our resource library for preservation in accessible format.  Explicit permission pending.
Link to Original Article: https://newmobility.com/sacrifice-and-strength-a-mother-and-daughters-journey-through-sci/