Personal Disability Stories: 10 – Kay's story
By Kay | GOV.UK, May 3, 2019
In January, I shared Emma's and Therese's stories of having an autoimmune condition. This struck a chord with many readers and generated lots of comments.
One such reader is Royal Navy Commander Kay Hallsworth, who has kindly been in contact to share her story of working in the Armed Forces whilst living with Myalgic Encephalomyelitis (ME).
ME, sometimes known as Chronic Fatigue Syndrome, is a long-term, fluctuating neurological condition that affects many body systems, including the nervous and immune systems. The most common symptom is tiredness, but people with ME can also experience a range of symptoms, and relapses that can impact on everyday activities.
It is estimated that 250,000 people in the UK and 17 million people globally are affected by ME.
I will let Kay explain how the condition has affected her, the coping strategies that she has adopted, and the support that she has found helpful.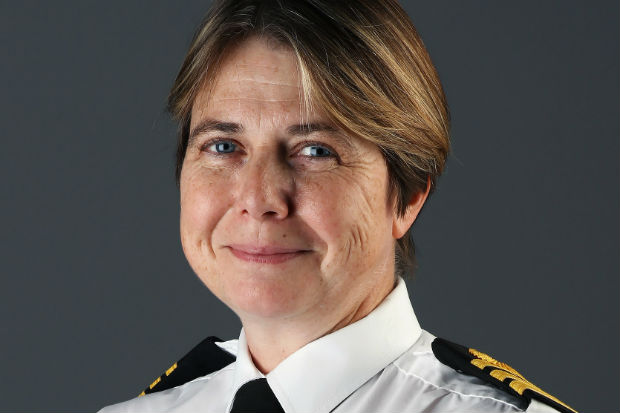 I have never considered myself to be disabled. Having been in the Royal Navy for nearly 27 years and progressed from a student nurse to a Commander, how could I be?
Initial diagnosis
22 years ago I was diagnosed with Myalgic Encephalomyelitis (ME), sometimes called chronic fatigue syndrome (CFS), yuppie flu, or post-viral fatigue syndrome (PVFS).
A commonly misunderstood condition, it was first identified in 1956. It is distinguished by muscle fatigability after minimal exertion; neurological symptoms, especially affecting cognitive, autonomic, and sensory functions; and is characterised by fluctuating symptoms, with a tendency to become chronic over time.
My case has always been mild. I work full-time but live daily with symptoms including chronic pain, muscle fatigue and cognitive impairment. Current research suggests a probable immune response that causes a metabolic change, so people with ME tend to function anaerobically as opposed to aerobically. This means that I live with almost constant 'lactic burn'. Some types of exercise can be detrimental if not done the right way – I am, by necessity, more yoga than parkrun!
Managing my condition
I have always had exceptional support through Defence Medical Services.
There is no definitive treatment or cure for ME. The most effective way of managing it is through pacing, to prevent a 'crash' or 'flare'. Some people use a spoons analogy, where each spoon is energy for a task. It works well for understanding pacing, but I prefer Energy Envelope Theory, where you consider the total amount of energy you have as a set package. I have learnt how to do this well enough to function with most people not realising I am ill.
I also have an extremely supportive husband, who stays at home to look after our children and domestic tasks, allowing me to continue working.
Relapses
I have had two bad relapses since my first diagnosis, both brought about by situations that removed my control over my pacing. I am currently on a phased return to work after the second relapse.
The first was brought on by a role change in a new job involving significant people management work. The latest has been harder to cope with. I have been out of a full-time role for longer, and it has left me with more residual effects, and more necessary adaptations to how I manage my life and work. This episode must have started earlier than I realised, but I kept on trying to 'push through'. This is one of the worst things a person with ME can do, but is a natural response, especially for someone in the military.
Chronic illness and depression
Just before Christmas I was diagnosed with High Functioning Depression and am under the care of the excellent team at DCMH (Departments of Community Mental Health) Portsmouth. An incident 5 years ago may have triggered this, and once again my body has been coping with managing the symptoms alongside my ME.
Many people with chronic illnesses, especially those causing chronic pain, can develop depression. However, in my case, depression was separate and specific to the incident.
Initially, I reacted physically to the increased cortisol levels firing round my body, and I ended up in an early menopause, aged 41. I gained weight, slept only 3 hours each night, and living with my 'normal' pain became increasingly difficult. I reached out to my chain of command and medical support, but as I did not know what was making me unwell, I didn't know how to address it.
Correct diagnosis and rehabilitation

One colleague suggested I wasn't cut out to be a Commander with my condition. This made my depression worse, and I suffered full-blown anxiety symptoms, barely leaving the house for a couple of months.
Thankfully, my fantastic GP at HMS Excellent, and the team at DMRC (Defence Medical Rehabilitation Centre) Stanford Hall, identified the underlying cause of my relapse. With medication, treatment and a rehabilitation programme, I am now looking at a full-time return to work in the summer.
Some employers would have written me off. The MOD haven't done that, and the medical and occupational health support has been invaluable. I will never be the person I was. However, I can still bring value to the job I am trained and paid for.
How can line managers and employers help?
It is important that line managers understand their people and offer them the support they need. For me, this means a quieter office where it is easier to pace myself. I am also conscious that 'coming out' about living with a chronic medical condition means people may view me differently. However, it may help others appreciate that people are often living with conditions they have no idea about. Compassion and empathy cost nothing, and allowing people to work in an environment best suited to their condition may help them to work better.
I believe that living with additional needs actually makes me more inclusive and compassionate as a leader. We often overlook individuals with complex stories, or focus on what they can't do rather than their strengths. I try to look at the whole person and consider what is best for them as a member of my team, not what is best for me.
A flexible and inclusive leadership approach allows others to be their whole self at work and to realise their full potential, benefiting both the individual and the organisation.
I am indebted to Kay for her willingness to share her story to help others, and for her honesty, including her concern that, in opening up, others may view her differently. This is a comment I have often heard from disabled colleagues. It tells me that we need to do more to create a supportive environment in which disabled colleagues feel able to talk openly about their disability.

We need more senior disabled role models such as Kay to come forward and let others know that it is okay to talk openly about their disability and to seek the support that they need.

Kay also makes an excellent point about the need for managers and colleagues to show compassion and empathy. Random acts of kindness, such as bringing someone a cup of tea when you can see they are having a bad day, can make a huge difference.

Finally, I would like to give a shout out for ME Awareness Week, from 6 to 12 May. And you can find out more about ME, along with advice and information on available support, on the NHS website or through the ME Association.
About This Article:
A Life Worth Living has copied the content of this article under fair use in order to preserve as a post in our resource library for preservation in accessible format. Explicit permission pending.
Link to Original Article: https://civilservice.blog.gov.uk/2019/05/03/personal-disability-stories-10-kays-story/