Paralyzed marathoner breaks world record for finishing race in exoskeleton suit
'It's just an amazing feeling being able to stand up and walk with people,' says Adam Gorlitsky
Original Post As It Happens CBC Radio ·
The man who broke the world record for finishing a marathon in a robotic exoskeleton suit says there was one point in the race where he didn't think he would make it.
Adam Gorlitsky, who is paralyzed from the waist down, finished the 42-kilometre Charleston Marathon in South Carolina on Saturday night after 33 hours, 50 minutes and 23 seconds.
"It was very great sense of achievement, but I was just so tired, so exhausted," Gorlitsky, 33, told As It Happens host Carol Off.
"The last 2.2 miles, those were excruciating. I mean, I was literally having, like, micro-blackouts while walking, where I would all of a sudden lose consciousness for one to three seconds."
But he said he made it to the finish line with the help of about 10 friends and family members who walked alongside him, keeping hydrated and motivated, and regularly charging the batteries in his bionic walking legs.
"I definitely couldn't have done without them," he said. "From a physical standpoint, but yeah, from an emotional standpoint as well."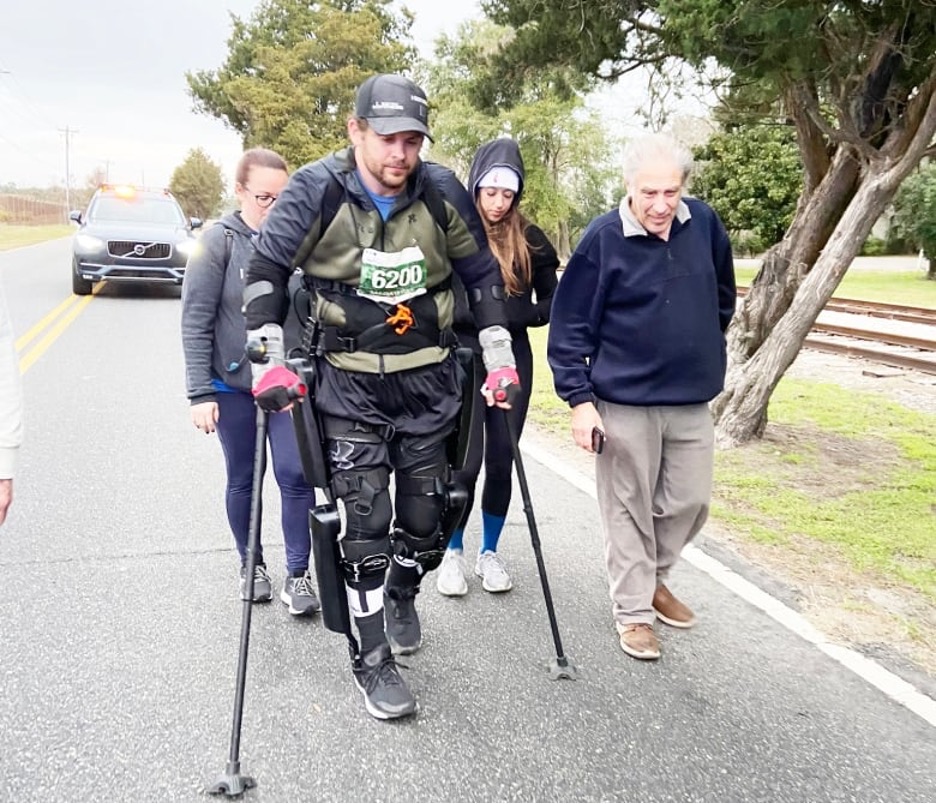 Gorlitsky says he has loved to run his whole life, but it became a lot more difficult for him in December 2005.
He was 19 years old and he fell asleep at the wheel of his car while driving home from college, he said. He crashed, suffering a spinal cord injury that left him paralyzed from the waist down.
At the time, he says he didn't think it was possible to ever complete a marathon. But 10 years later, he started using the ReWalk Robotic Exoskeleton.
"It really is like the lower half of a Terminator suit," he said.
When he's using the device, he holds himself upright with crutches, and uses the motion of his abs and hips to trigger a sensor that propels his legs forward in a walking motion.
"It's an incredible abdominal and core workout," he said.
The next challenge
In 2016, Gorlitsky became the first paralyzed person to walk the Cooper River Bridge Run in Charleston using a robotic exoskeleton, finishing the 9.9-km race in a bit less than seven hours.
After that, he founded the non-profit I Got Legs to help support other athletes with physical disabilities.
"Ultimately, what it means to me going forward is, you know, using this … whole marathon platform to hopefully drive forward our entire mission," he said.
"I would love to start getting more people using exoskeletons, and I would love to start, you know, working with the manufacturers on ways to evolve this exoskeleton technology."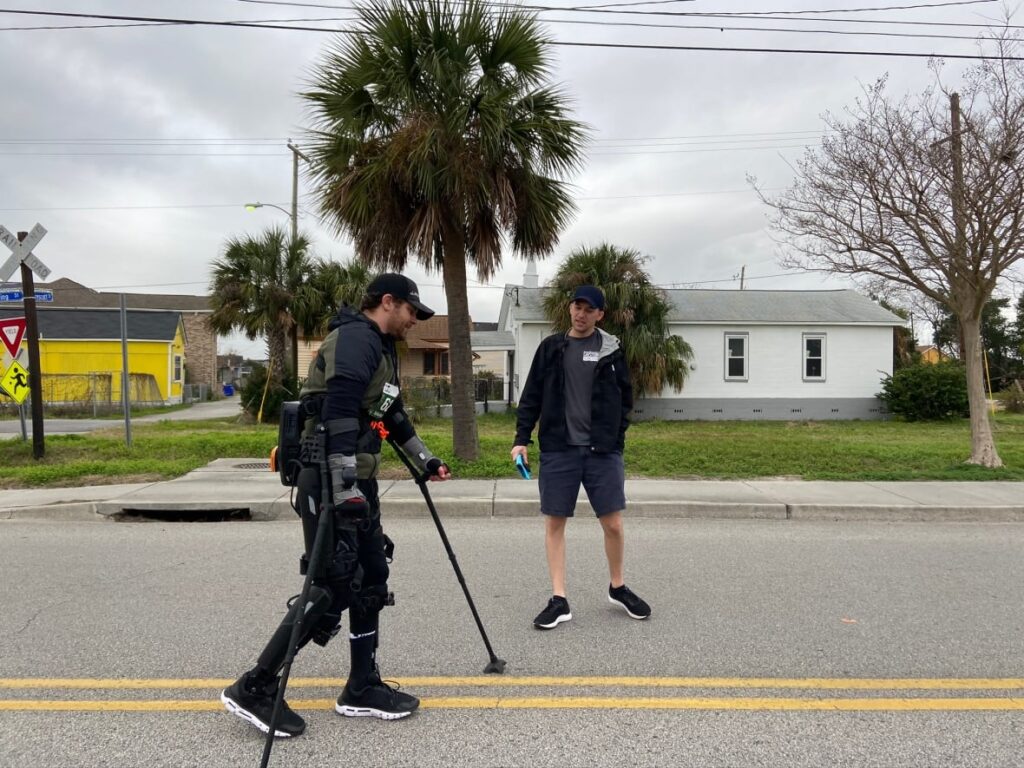 When Gorlitsky completed the marathon on Saturday, he finished about three hours faster than the current record-holder, Britain's Simon Kindleysides.
Kindleysides finished the 2018 London Marathon in an exoskeleton in 36 hours and 46 minutes, according to Guinness World Records.
Guinness has not yet confirmed Gorlitsky's new record.
Gorlitsky's next goal, he said, is to get in touch with Kindleysides and challenge him to a one-on-one race.
"These exoskeletons, it really is an incredible sport," he said.
"It's just an amazing feeling being able to stand up and walk with people. But then to be able to race against other people, you know, with spinal cord injuries, would be so cool."
As It Happens has reached out to Kindleysides for comment.
Written by Sheena Goodyear. Interview with Adam Gorlitsky produced by Yasmin Gandham.
About This Article:
A Life Worth Living has copied the content of this article under fair use in order to preserve as a post in our resource library for preservation in accessible format. Explicit permission pending.
Link to Original Article: https://www.cbc.ca/radio/asithappens/as-it-happens-monday-edition-1.5425020/paralyzed-marathoner-breaks-world-record-by-finishing-race-in-exoskeleton-suit-1.5425023