Paralyzed by a rare virus as a teen, Grace Fisher from Santa Barbara is now inspiring others through music
By Caroline Feraday | KCLU, October 20, 2021
Imagine being at your 17th birthday party and being suddenly struck by a rare virus, which left you paralyzed within hours – that's what happened to Grace Fisher from Santa Barbara, who is now the subject of an inspiring documentary.
Grace Fisher is using her mouth to control her computer, using an adaptive mouse which she blows into and moves with her tongue. She's composing music.
Grace is 23 years old. When she was 17, she was struck by a rare polio-like virus that paralyzed her from the neck down.
"I went from a typical teenager to completely paralyzed from the neck down," she told KCLU.
At the time, she had been accepted into the prestigious Berklee School of Music, but instead found herself in hospital, where she says she learned to heal her soul though music therapy and adaptive art. It must be working, as she radiates happiness.
"Music is definitely a part of my life in a very different way to what i was expecting. I'm at UCSB now for music composition," said Fisher.
Fisher uses a specially adapted wheelchair, which she also controls using a straw-like device and her mouth.
At an age where young people are normally finding their independence, Grace has been focused on helping other disabled young people make art and music.
"I breathe with a diaphragmatic pacer. They placed electrodes on my stomach, that's why there are short little pauses with my breath. It's very calculated for 14 breaths a minute.
"I'm definitely a bionic woman.
"It's sip and puff technology. I write music with my mouth. I paint with my mouth.
"There's so much adaptive technology out there now, that keeps me independent."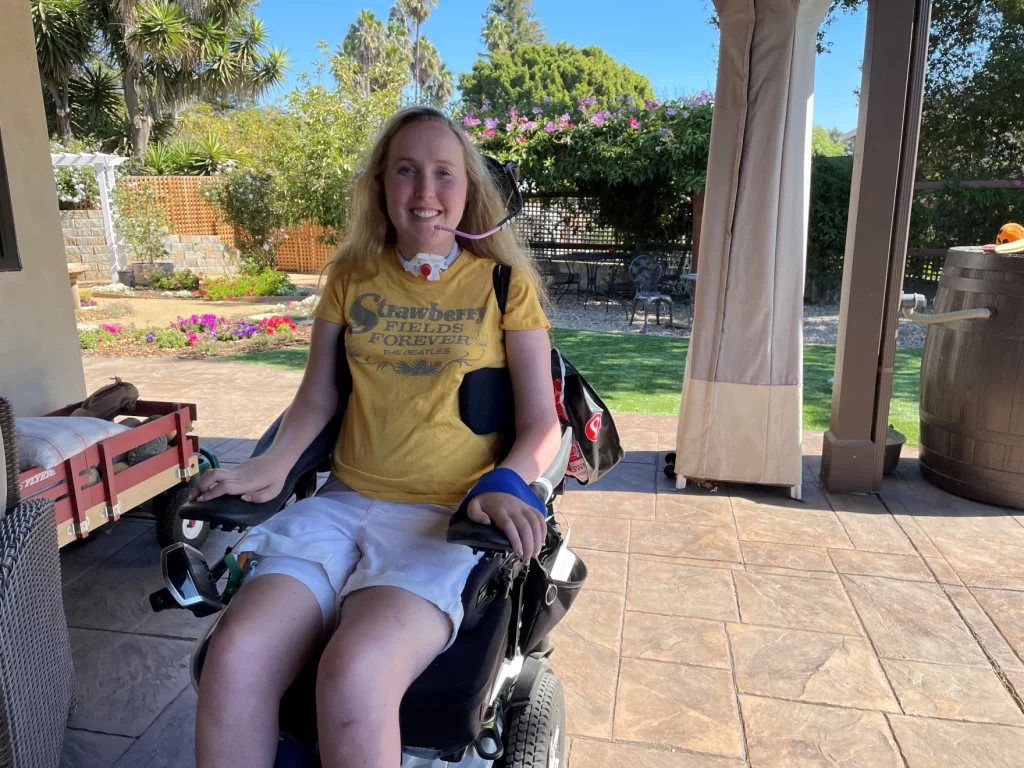 Grace's inspiring story features in a new movie, called I Am My Power.
She says that her power is not just an "I", but a collective of her family and community.
"It's so much more than just me."
A special screening of I AM MY POWER takes place on Thursday October 21 at West Wind Drive-in Theater in Goleta. at 6pm. Gates open at 6 p.m. Movie begins at 7 p.m.
Tickets must be purchased in advance at www.cottagehealth.org/crhevent2021.
Standard Admission is $40 for entrance of one vehicle. General admission is $75 for one vehicle and an assorted snack box. VIP Admission is $200 for one vehicle, preferred parking, assorted snack box and Cottage gift.
Attendees are asked to wear masks when outside of their vehicles and to maintain 6 feet of distance from others.
About This Article:
A Life Worth Living has copied the content of this article under fair use in order to preserve as a post in our resource library for preservation in accessible format. Explicit permission pending.
Link to Original Article: https://www.kclu.org/local-news/2021-10-20/paralyzed-by-a-rare-virus-on-her-17th-birthday-grace-fisher-from-santa-barbara-in-now-inspiring-others-through-music