LEGO is donating MRI scanner models to hospitals to help calm children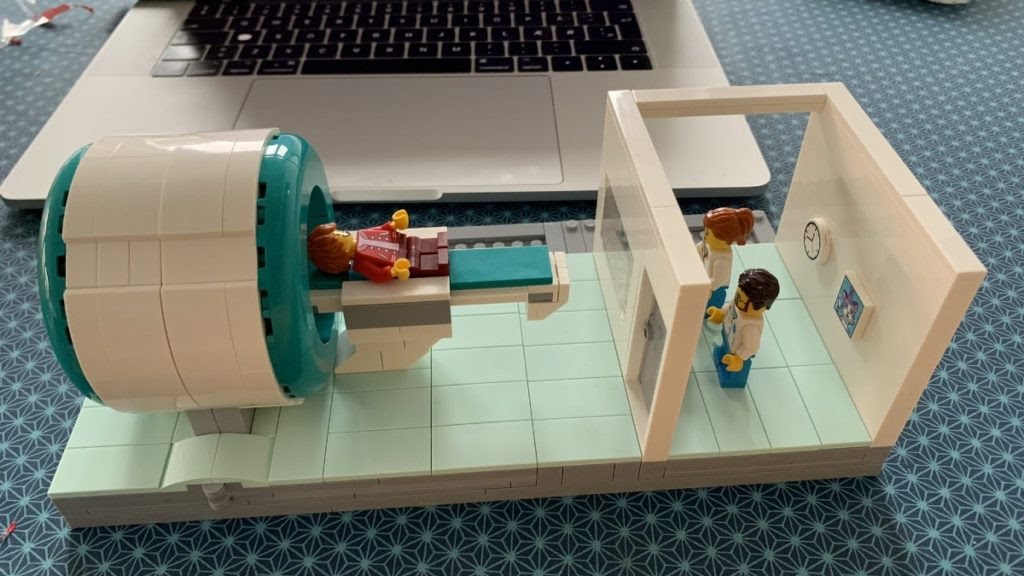 by Jack Yates |  Brick Fanatics, January 2022
The LEGO Group is donating model MRI scanners to hospitals to explain the process to kids, and the exclusive build has been showcased online.
Fraser Lovatt, an employee of the LEGO Group, has taken to Twitter to share more about the exclusive build and the story behind it. The creation isn't available for sale and the instructions won't be accessible online, but photos of the construction process have been revealed.
I have a small weekend project – LEGO is donating model MRI Scanners to hospital Radiology departments to help children who may be nervous understand the process. I get to build one! pic.twitter.com/9C5MzulNtK

— Fraser Lovatt (@fraserlovatt) January 22, 2022
The model uses a mix of white, grey and blue bricks to mirror the hospital setting and help familiarise younger patients with the process ahead of them. The build is split into two rooms, one continuing the MRI scanner and another for staff to stay and monitor the patient.
An image later in the Twitter thread shows how the LEGO MRI scanner can open up to reveal the internal machinery to children and help them understand what is going to happen, and stop them from worrying about the process.
January 22, 2022
The employee reveals that a fellow worker at the LEGO Group, Erik Ullerlund Staehr, came up with the idea for the model and that the LEGO Group is now tasking employees worldwide to build the exclusive sets and donate them to a local hospital.
Back in 2020, a LEGO Ideas project proposing an official set for a different type of MRI scanner was pitched on the platform but was not approved in the review stage.
Featured image: Fraser Lovatt
About This Article:
A Life Worth Living has copied the content of this article under fair use in order to preserve as a post in our resource library for preservation in accessible format.  Explicit permission pending.
Link to Original Article: https://www-brickfanatics-com.cdn.ampproject.org/c/s/www.brickfanatics.com/lego-donating-mri-scanner-models-hospitals/amp/