Kitchener girl's YouTube channel gives glimpse into life as a visually impaired 10-year-old
By Hala Ghonaim | CBC News, November 28, 2020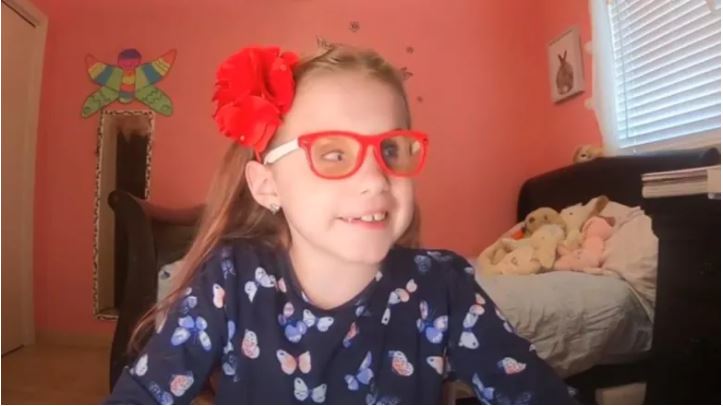 Abby Walz, 10, makes videos about assistive devices and other topics of interest.
Ten-year-old Abby Walz wants people to see the world through her eyes.
The Kitchener YouTube star is using the video-sharing platform to teach people who are visually impaired, like herself, all about helpful devices and share other topics of interest.
At the same time, her channel, called Through the Eyes of Abby, is raising awareness about the lack of accessible supports for the community.
"I want to help people and educate people," she said.
Walz started her channel a year ago and so far has received more than 1,000 views across her blog-style videos that feature her talking to the camera. Walz has shared tutorials on the Amazon Echo, BrailleNote Touch and other technological devices, a major interest of hers.
"For anyone struggling with braille, I have a braille video out there and for anyone struggling with tech, I have tons of tech videos. I have helpful videos that I hope, at least, help the visually impaired," she said.
"I think it can really help other people that aren't visually impaired because they can all learn how to use some tech," she added, noting the overall response has been positive — for the most part.
"I did get one thumbs down but I'm not going to let that get me down," she said.
Awareness and education
Abby's mom Lisa Bonnell said her daughter's videos provide a unique and important perspective that allows the general public to better understand how a person who is visually impaired navigates life.
"I definitely think there is inclusion education that needs to be done… the day in the life of a child that is visually impaired isn't as easy as you think and it's not usual. It's good to bring awareness. It's good to bring education," said Bonnell.
Bonnell said accessibility remains an issue for Walz and other people in the community. She said new technology is on its way, but hopes tech-based companies will prioritize the community and work faster to release assistive features.
In the meantime, Walz hopes her YouTube channel will continue to grow. She's also hoping to convince her mom to buy her a new iPhone.
About This Article:
A Life Worth Living has copied the content of this article under fair use in order to preserve as a post in our resource library for preservation in accessible format. Explicit permission pending.
Link to Original Article: https://www.cbc.ca/news/canada/kitchener-waterloo/abby-walz-visually-impaired-community-1.5819079?__vfz=medium%3Dsharebar&fbclid=IwAR29GIn9Flp64II052csPUcOzWgjCwfOcFgHhE-3jIm7eXRNndWnzfRGkCk