Justin's Story
Posted by CDC | September 16, 2020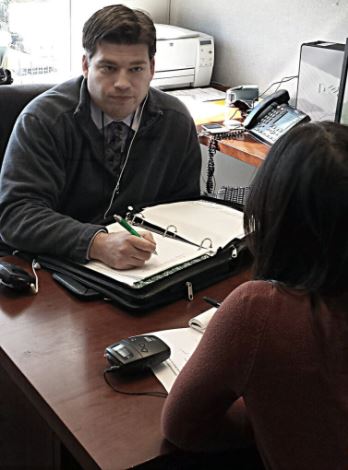 Justin was first diagnosed with a disability in the form of ADD (attention deficit disorder, now known as ADHD, or attention-deficit/hyperactivity disorder) at the age of 5 years. The diagnosis resulted in his removal from a regular classroom environment to special education courses. Justin's parents were informed by Justin's educators that he probably wouldn't graduate high school, much less college.
Years later, as a young adult, Justin developed Meniere disease (an inner ear disorder), which affected his hearing and balance. The onset of the disorder left Justin with the scary reality that he could permanently lose his hearing at any time. Justin recalled a former supervisor taking advantage of this knowledge with an inappropriate prank: While speaking in a one-on-one meeting, the sound from the supervisor's mouth abruptly halted, while his lips continued to move. Justin thought he had gone deaf – until the supervisor started laughing – which Justin could hear. Behaviors like the above took its toll on Justin's confidence – yet, he knew he could contribute in society.
Spurred in part by adversity, Justin went back to school, earned a business degree, and shortly after, entered the commercial marketing industry. However, despite his education and experience, Justin was still regularly subject to the same stigma. Many of Justin's work experiences over the course of his career left him feeling ashamed, guilty, offended, and sometimes, even intimidated. Rather than instilling confidence, it left him demoralized – simply because he was differently abled.
In July of 2013, everything changed for Justin. He joined the Centers for Disease Control and Prevention working as a contractor in the Division of Human Development and Disability at the National Center on Birth Defects and Developmental Disabilities. Justin's colleagues put an emphasis on making him feel comfortable and respected as a member of a diverse and productive workforce. They welcomed Justin's diversity, positively contributing to his overall health.
The mission of the Division of Human Development and Disability is to lead public health in preventing disease and promoting equity in health and development of children and adults with or at risk for disabilities. One in two adults with disabilities does not get enough aerobic physical activity1, and for Justin, regular physical activity is important to help him combat potentially lethal blood clots due to a genetic blood clotting disorder that he has. Every working hour, Justin walks for a few minutes, stretches, or uses his desk cycle. Justin also participates in walking meetings, which he believes leads to more creative and productive meetings.
Stories such as Justin's are reminders that employment and health are connected. CDC is proud to support National Disability Employment Awareness Month every October. The awareness month aims to educate about disability employment issues and celebrate the many and varied contributions of America's workers with disabilities.
About This Article:
A Life Worth Living has copied the content of this article under fair use in order to preserve as a post in our resource library for preservation in accessible format. Explicit permission pending.
Link to Original Article: https://www.cdc.gov/ncbddd/disabilityandhealth/stories.html