How Young Adults With Disabilities Can Succeed in Business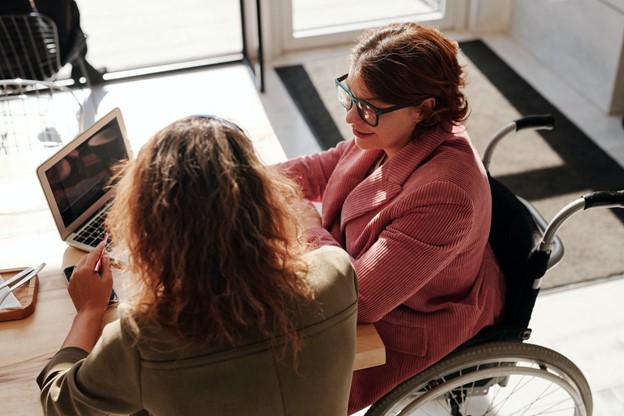 by Donna Erickson | A Life Worth Living | December 2, 2021
Young adults with disabilities can have trouble finding their places in the professional world. But a career in business could be a fulfilling choice. However, you might be nervous about facing obstacles in school and in the workforce. These tips will help you navigate the path to your career in business.
The Perks of a Business Career
Simply put, business is a very diverse field, and a career in business could involve everything from sales to marketing to product management. No matter where your skills lie, you can find a business opportunity that suits you and allows for flexibility in the way you work. Whether you want to start your own company, work remotely, or secure a traditional 9-to-5 position in an office, you can make it happen with a background in business.
Choosing a Degree Program
If you're interested in earning a business degree, you'll have a wide variety of options. Own Your Own Future states that degrees in subjects like actuarial science, marketing, finance, and business administration can give graduates particularly high earning potential.
While you could attend school at a brick-and-mortar campus, enrolling in an online degree program is often a convenient option for students with disabilities. This will still allow you to polish your business skills and get ready for internships and jobs. You could earn an online degree in anything from marketing to business management to management and leadership.
Requesting Accommodations
After enrolling in a college program, you may need to request accommodations. Get in contact with your college's disability services office as early as possible to register for accommodations. If one of your requests is rejected, you have the ability to appeal the decision. You will want to inform your professors about your accommodations before classes start.
Remember, you can always request accommodations at future internships or jobs, too. While the process may differ from that of your university, this is well within your rights.
Applying for Internships
Once you've gotten a few business classes under your belt, you'll be ready to start applying for internships! Check in with the career services office at your college for assistance with your search and your applications. You can ask your professors for references if necessary. When you land your first internship, WayUp recommends finding ways to make your boss's job easier, reaching out to any other interns at the company, and figuring out which skills and accomplishments you want to gain through this internship.
Your First Job
Even if you hope to run your own company one day, working for an employer can be an extremely valuable learning experience. To boost your chances of landing the job you want, focus on displaying your biggest achievements at school and during your internships on your resume. As you apply for jobs, keep in mind that you are not required to disclose your disability to an employer during an interview. However, if you will need accommodations to perform certain required tasks, you can discuss them with your employer after you are hired. They are legally required to provide support for reasonable accommodations.
Instead of working for someone else, you may choose to start your own business. Before getting started, make sure you have enough funding, create a marketing plan, research your competitors, and decide on a business structure. Many new business owners choose to incorporate to gain tax advantages, reduce liability, and separate their personal and business obligations.
As a young adult with a disability, you might be unsure which career choice is right for you. In the world of business, you're sure to find a way to let your talents shine through. By following these tips, you'll be well prepared to pursue a business career.
Photo via Pexels