Deaf consumers demand equality in telephone access as our nation celebrates the ADA's anniversary
By Sherri Turpin , Opinion Contributor | The Hill, July 29, 2021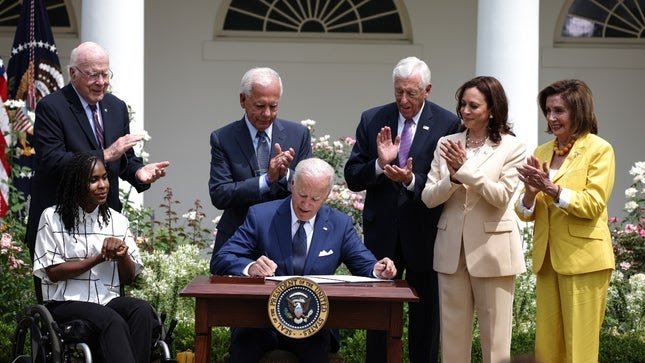 ZVRS and Purple Communications provided a video interpreting this article in American Sign Language. Click here to see it: http://bit.ly/TheHill_Sherri_Turpin.
This week the White House recognized the 31st Anniversary of the Americans with Disabilities Act. It was a celebration of landmark civil rights legislation promoting equal access for people with disabilities.
But it was also a wakeup call. That's because Americans who are deaf, hard of hearing and deafblind have been left behind in an increasingly digital communications world. And these Americans are now fighting for their human right to have equal access to this world. The Federal Communications Commission has the opportunity to right this wrong in the coming weeks and it is their duty to do so.
The ADA promised a communications system for Americans who are deaf, hard of hearing and deafblind that is "functionally equivalent" to what hearing Americans have. Video Relay Service, or VRS, is one of the features of the promised system, which allows people who use American Sign Language to make calls to hearing individuals naturally and seamlessly in their own language. Using online video equipment, the sign language user connects with an interpreter who relays the conversation between the caller and the called party. 
In 2010, on the 20th anniversary of the ADA, President Obama doubled down on the need for communications access by signing the 21st Century Communications and Video Accessibility Act, a law guaranteeing people with disabilities access to advanced, digital and mobile communications. Soon thereafter, nine national deaf and hard of hearing consumer organizations called upon the FCC to meet the ADA's functional equivalency mandate. They pointed out that VRS and other relay services still failed to offer deaf users the same emergency access, interoperability, and technological advancements available to hearing individuals.
Yet another decade later, many of these same organizations have come back to renew their requests. VRS provider rates have been slashed by 47 percent over the last decade, and the National Association of the Deaf has said it is "alarmed by the deterioration of service quality as the [FCC] constantly reduced the rates."
The FCC has now opened a proceeding to revisit the future of the VRS program. Will this time be different?
It's looking likely. Acting Chairwoman Jessica Rosenworcel has said that "functional equivalency is the foundation of our telecommunications relay service policies," and earlier this week recognized that "when we improve access to communications for millions of individuals with disabilities, we strengthen our economy, our civic life, and our nation."
What is more, countless Americans – individuals who are deaf, hard of hearing, deafblind and their families and friends – have flooded the FCC's docket with pleas for functionally equivalent communications. Consumers are complaining that relay technologies have continued to stagnate as mainstream communications technologies have flourished. They are demanding access to critical emergency services – such as mobile geo-located 911 services – as well as improvements that will put them on par with hearing people, such as a single phone number for VRS and texting, timely access to sign up for VRS, and seamless telephone access at home, at work, and on the go, whether here or abroad.
For me, the cause is personal. Most of my executive team is deaf. I am frustrated every day that VRS fails to keep pace with the advanced telephone innovations everyone else gets to use. And I am so proud to be part of this movement. That's why I'm asking consumers who are deaf, hard of hearing, deafblind, their friends and families, and all those committed to inclusion to comment on FCC proceeding 10-51 (enter 10-51 in the proceedings field and here are the instructions). Now is the time to let policymakers know the importance of fully functionally equivalent VRS.
The FCC should seize this opportunity and adopt a Community Investment approach to VRS rates so that the program can open doors to jobs and education for the deaf community and allow full connectivity with family and friends, doctors and teachers, colleagues and businesses.
I agree with Acting Chairwoman Rosenworcel: We all lose when our world is not accessible and inclusive for everyone. Equal communications access is necessary to ensure societal contributions from all Americans, including Americans who are deaf, hard of hearing and deafblind. It's time for the FCC to provide the financial and regulatory support needed for this program to meet the needs of all Americans with disabilities.
Sherri Turpin is CEO of ZVRS and Purple Communications (ZP), a leading provider of communications solutions, including video relay technology, and interpretation services for deaf and hard of hearing individuals. Proficient in American Sign Language, Sherri is committed to the CEO Action for Diversity & Inclusion initiative and serves as a member of the Board of Trustees for New York School for the Deaf (NYSD) and the Foundation Board for the National Technical Institute for the Deaf (NTID).  Under her leadership, ZP was recognized as a 2021 and 2020 Best Place to Work for Disability Inclusion, earning a score of 100% on the Disability Equality Index (DEI), a joint initiative of the American Association of People with Disabilities and Disability: IN.
About This Article:
A Life Worth Living has copied the content of this article under fair use in order to preserve as a post in our resource library for preservation in accessible format.  Explicit permission pending.
Link to Original Article: https://thehill-com.cdn.ampproject.org/c/s/thehill.com/changing-america/opinion/565453-deaf-consumers-demand-equality-in-telephone-access-as-our-nation?amp