The Disability-Inclusion Movement
It is one thing to legislate disability inclusion but if you have not 'been there', it can be a whole new world to know how to follow through.  Even with a personal, academic and professional background in disability, the how-to is sometimes too daunting.  I started my professional career in the late 70's when the political thrust was 'integration' of children with disabilities into school and community.  Lofty worthy ideals and many successes.  I also observed it as an acceptance of their physical presence and confusion, may I say reluctance, on how to create an environment for growth.  We cannot allow this to happen again.
Like the Civil Rights and Women's Movements, we are in the Disability-Inclusion Movement.  In 2005, Ontario passed the Accessibility for Ontarians with Disabilities Act (AODA). How are we doing?  We are not where we hoped to be. Published in February 2015, the Legislative Review of the Accessibility for Ontarians with Disabilities Act reported that more resources on inclusion needs to be made available to businesses rather than enforcing non-compliance fees.
Inclusion is not a new business practice, employers' bottom-lines have benefited from the hiring of people with disabilities for decades.  But, how can an employer learn from those business strategies if they don't even know that business exists. With the demands of running a small to mid-sized business, how can an employer meet the annual requirement to train their staff, board, volunteers and contract services?
Well, meeting this need is right up A Life Worth Living's alley!  Currently, we are producing an online Business Accessibility Toolkit (BAT).  BAT is a set of multimedia learning tools designed specifically to assist businesses in educating and training their staff on how other businesses are incorporating accessibility strategies into the workplace particularly on their employment of people with disabilities. BAT is a 'business owner to business owner' perspective on the concrete bottom-line tangible benefits of integrating people with disabilities into their workplace as an employee or a customer.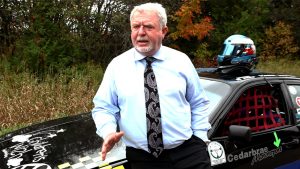 For part of the BAT training course, we filmed at length one businessman whose name you may have already heard before, Marc Wafer.  Marc grew up with a severe hearing impairment. That never stopped him from getting a job, but definitely his disability was the reason he couldn't keep a job because the workplace didn't know how to make the appropriate adaptations.  Now, myths floating around can leave one to believe that adaptations wouldn't have helped someone like Marc.  Before you make a serious error in judgement, I'd like to introduce you to Marc Wafer, a man with an 80% hearing loss who at one time ran Tim Hortons franchises. He understood the value of disability in the workplace and wanted nothing but success for his business, employees and customers. But I'll cover that in a later blog, right now I just want to show you another love of his life – his race car.
By Judy Robinet, Executive Director, A Life Worth Living