Blind farmer creates route into farming for disabled students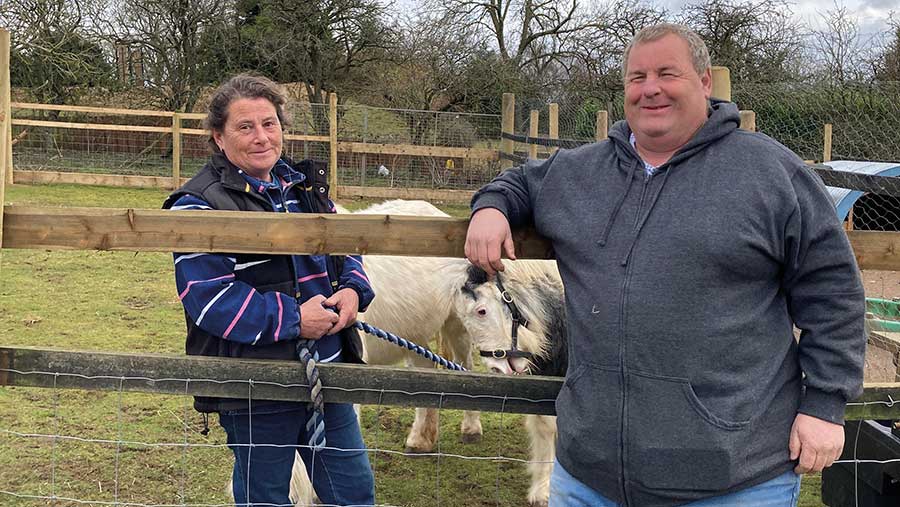 by Ed Henderson | Farmers Weekly, February 17, 2022
A blind farmer is breaking down employment barriers for young people with disabilities and learning difficulties by giving them work experience on his small farm in Bedfordshire.
Mike Duxbury has built Inclusive Farm to show people with disabilities a route into agriculture and give them the confidence to pursue their career.
Students from Milton Keynes College visit the farm, near Flitwick, each week for the practical element of their animal care course.
Two groups of students spend half a day learning how to handle, feed and care for pigs, poultry, goats and horses.
Mr Duxbury lost his sight aged six, due to glaucoma, and was the first blind person in Britain to attend agricultural college.
He studied at Warwickshire College, where he discovered a talent for working with pigs, and went on to have a successful career as a breeding specialist.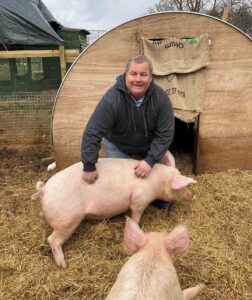 Farming and accessibility
This passion for farming, combined with eight years as head of accessibility at Vodafone – where he launched the world's first speaking phone for blind people – is driving the new project at Inclusive Farm.
"This is not a care farm, people come here and have to work. The farm is an insight into what people can do, it is an insight into what farming can do for people for the future," Mr Duxbury told Farmers Weekly.
"The industry is changing. When we talk about diversity in farming, we also need to look at diversity in people and that means farming should be open to everybody.
"We have a fantastic industry in this country. I would like to see more farms like mine catering for a raft of people."
Duke's endorsement
Mr Duxbury and his partner, Ness Shillito, have invested £40,000 in the initiative.
They rent the land from the Duke of Bedford, who was so impressed with the farmers' plan, he gave them a five-year lease which started last September.
In a matter of months, the couple have transformed the small, overgrown site and built a barn for storing hay and straw, a stable, pens to house pigs and poultry, and a small grazing paddock.
Ms Shillito has played a crucial role in getting the farm up and running.
"Mike's drive and passion inspires me to be the best I can be, helping with the animals and buildings to getting paperwork in order," she said.
Mr Duxbury moves around the site unassisted, having created different tactile markers on each livestock pen and barn to tell him where he is.
Matting on the floor helps with the route from the yard where the pig pens and barn are, up to the horse paddock and poultry shed.
There are also plans to build a polytunnel so horticulture students can learn about vegetable and fruit crops.
Partners wanted
Mr Duxbury wants to eventually expand the initiative to other parts of the country.
"We are a little farm in Bedfordshire that can only serve so many people, but I hope we could do similar things with other colleges and farms.
"I want more people to understand that whatever your background, whatever your difference, we are allowed a chance.
"This is a business to teach disabled people and give them the hope and opportunity to go and work."
He is eager to find new partners to invest in Inclusive Farm.
Income from the teaching partnership with the college is put back into the project, along with the money made from the pork and eggs sold directly to local people and the village pub.
Inspiring figure
Becca Partridge, head of inclusive learning at Milton Keynes College, said Mike Duxbury was inspirational for students.
"Throughout their lives, our learners are used to being told they can't do things, and we spend a lot of time repairing the damage such negative reinforcement does by showing them that they can," she said.
"Mike at Inclusive Farm thinks the same way. Through his own life, he has been proving to others that he can achieve whatever he puts his mind to, and that sets a perfect example for our students.
"The fact that they know that the farm is somewhere they can learn new skills – real skills which can lead to meaningful employment – is of huge importance to them, their self-esteem and their futures.
About This Article:
A Life Worth Living has copied the content of this article under fair use in order to preserve as a post in our resource library for preservation in accessible format.  Explicit permission pending.
Link to Original Article: https://www.fwi.co.uk/farm-life/blind-farmer-creates-route-into-farming-for-disabled-students?fbclid=IwAR0AsLFI1neynWRfHuo1GVvYTOU0H6ejeHiB90sJe54mNLie2Qef69xOZck