AODA Compliance Requirements for Websites
Posted by eSSENTIAL Accessibility | June 10, 2021
Summary: Learn about the AODA requirements for web accessibility, if the law applies to your organization, deadlines for compliance, and how you can ensure your website meets legal requirements.
What is the Accessibility for Ontarians with Disabilities Act (AODA)?
The Accessibility for Ontarians with Disabilities Act (AODA) was passed in 2005 and is based on the 2001 Ontarians with Disabilities Act. It establishes standards that both public and private organizations must follow to ensure greater access for Ontarians who are living with a disability. The goal is to create a barrier-free Ontario by 2025.
It's important to note the AODA does not replace the Ontario Human Rights Code, which prohibits discrimination against people with disabilities. However, it does set out clear processes for organizations to follow as they ensure their practices and policies are AODA compliant. This includes standards for website accessibility.
What does AODA web accessibility compliance require?
The AODA requires that public-facing websites meet Web Content Accessibility Guidelines (WCAG) 2.0 Level A and AA criteria. WCAG was developed by the World Wide Web Consortium (W3C) and is the internationally accepted standard for web accessibility.
See also
Clearing Up a Gray Area: How a Color Contrast Checker Can Improve Web Accessibility
To comply with the AODA, all web content must conform to the below success criteria. However, there are two exceptions to WCAG 2.0 AA conformance: success criteria 1.2.4 (live captions) and 1.2.5 (audio descriptions).
WCAG 2.0 AA criteria success criteria:
1.1: Text alternatives
1.2: Time-based media alternatives

Level A:

1.2.1 Audio only and video only (Prerecorded)
1.2.2 Captions (Prerecorded)
AODA Exception: 1.2.4 Captions (Live)
AODA Exception: 1.2.5 Audio Description or Media Alternative (Prerecorded)

1.3: Adaptable Content

Level A:

1.3.1 Information and relationships
1.3.2 Meaningful sequence
1.3.3 Sensory characteristics

1.4 Distinguishable content

Level A:

1.4.1 Use of color
1.4.2 Audio control

Level AA:

1.4.3 Contrast (Minimum)
1.4.4 Resize text
1.4.5 Images of text

2.1: Keyboard accessibility

Level A:

2.1.1 Keyboard
2.1.2 No Keyboard trap

2.2: Enough time to read and use content

Level A:

2.2.1 Timing is adjustable
2.2.2 Pause, stop, hide capabilities

2.3: Ensure content doesn't prompt a seizure

Level A:

2.3.1 Three flashes or below threshold

2.4: Navigable content

Level A:

2.4.1 Bypass blocks
2.4.2 Page titled
2.4.3 Focus order
2.4.4 Link purpose

Level AA:

2.4.5 Multiple ways
2.4.6 Headings and labels
2.4.7 Focus visible

3.1: Readable text content
3.2 Predictable web pages

Level A:

3.2.1 On focus
3.2.2 On input

Level AA:

3.2.4 Consistent identification

3.3 Input assistance

Level A:

3.3.1 Error identification
3.3.2 Labels or instructions

Level AA:

3.3.3 Error suggestion
3.3.4 Error prevention (Legal, financial, data)

4.1 Compatible

Level A:

1.1 Parsing
1.2 Name, role, value
See also
15 Employees and ADA Website Compliance

Who Must Comply with the AODA?
According to the law, AODA compliance for websites is required for all Ontario public-sector organizations. It is also required for commercial organizations that provide goods, services or facilities to the public, have at least 50 employees, and have at least one of those employees based in Ontario.
Website Compliance applies to all new websites or significantly refreshed sites. A new website is one that has a new web address. A significantly refreshed website is one that keeps the same web address but reflects substantial changes that impact the overall look and feel, the content or the navigation.
See also
Accessibility for People with Astigmatism
What is the deadline for compliance?
January 1, 2020 was the deadline for all internet and intranet websites and web content to conform with WCAG 2.0 AA (with the exception of Success Criteria 1.2.4 and 1.2.5). The deadline to submit an Accessibility Compliance Report has been extended to June 30, 2021. That report confirms an organization has met AODA accessibility requirements.
Noncompliance with the AODA can lead to significant financial penalties. In the most severe cases, a corporation can be fined up to $100,000 per day until violations are resolved. An individual or unincorporated organization may face a penalty of up to $50,000 per day.
How do you know if your website meets AODA compliance requirements?
A great way to get started checking your website for accessibility issues is by using an automated scan or "checker". However, it's very important to remember that automated scans are limited in how many issues they can catch. This is why the Accessibility Directorate of Ontario strongly urges organizations to have their websites tested by humans.
See also
The Many Pitfalls of Accessibility Overlays
Two helpful scans are WAVE and AChecker. Single page WAVE and AChecker scans are free.
Furthermore, the Government of Ontario has developed the AODA Compliance Wizard to give organizations a customized list of requirements for compliance, based on what kind of business they are or the size of their workforce.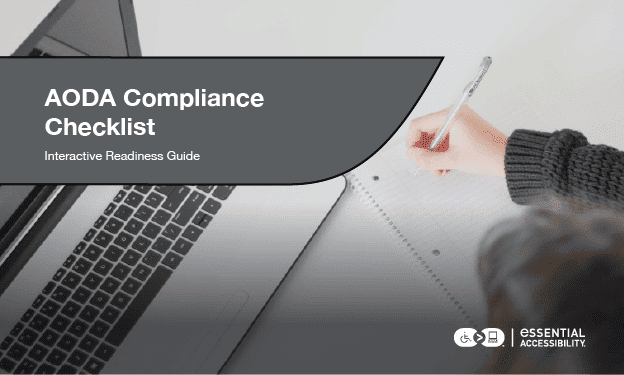 Assess your website's AODA compliance with our AODA Readiness Checklist – download your copy today.
How to ensure you're meeting AODA website compliance requirements
eSSENTIAL Accessibility offers a unique approach to the problem of digital accessibility. Namely, an all-in-one platform that combines technology, manual evaluation, accessibility experts, and legal guidance. This approach enables organizations to achieve and sustain digital accessibility across all of their sites, apps and products.
Also, eSSENTIAL's platform includes full website WAVE scans.
Learn more about eSSENTIAL Accessibility's innovative solution by requesting a demo today.
What to do next
We can help you meet WCAG standards and maintain ADA and AODA compliance:
Connect with us today to learn more about our comprehensive approach to digital accessibility, including our automated and manual auditing capabilities and extensive range of managed services.
Visit our resources section to download free white papers and webinars, and find our newest blogs on industry trends.
About This Article:
A Life Worth Living has copied the content of this article under fair use in order to preserve as a post in our resource library for preservation in accessible format. Explicit permission pending.
Link to Original Article: https://www.essentialaccessibility.com/blog/aoda-compliance-requirements-for-websites#who_must_comply_with_the_aoda