Aaron Fotheringham: Longest Wheelchair Ramp Jump
Guinness World Records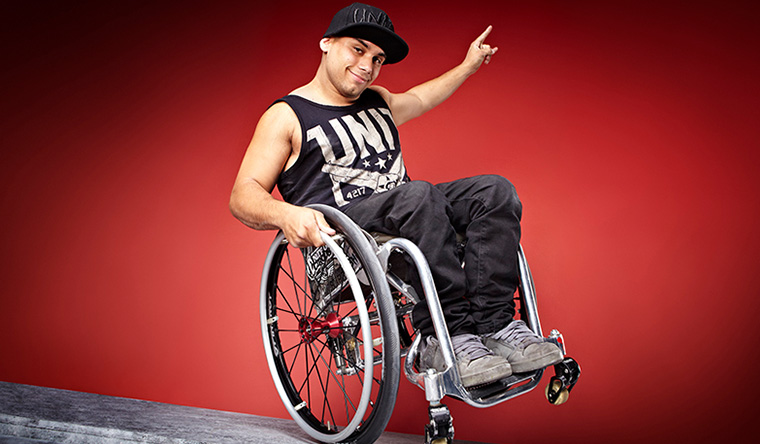 Robbed of his mobility by a birth defect, extreme sports fan Aaron Fotheringham refused to take his condition sitting down. Instead, he invented his own new form of wheelchair motocross and started breaking records on the quarterpipe.
Aaron James Fotheringham was born in Las Vegas, Nevada, USA, on 8 Nov 1991 with a condition known as spina bifida. This debilitating birth defect affects the development of the spine and spinal cord and, as in Aaron's case, typically results in a loss of mobility. Although he was unable to walk, Aaron was an active toddler and soon mastered the use of his baby walker and, later, crutches. But it would be his switch to a wheelchair that inspired a life-changing revelation that would set him – quite literally – on a new trajectory.
When I was a kid I dreamed about being a pro-skater or a pro-BMX rider, I just loved watching X Games… I was born with spinal bifida and it gave me a different set of wheels to try and make it happen.

– Aaron Fotheringham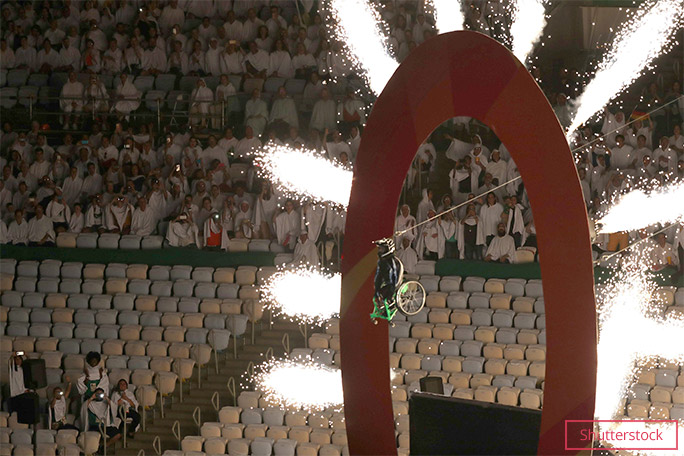 An adoptee – one of six children – Aaron grew up watching his older brother Brian tearing up the local skatepark on his BMX. Not content to merely watch from the sidelines, Aaron finally plucked up enough courage to have a go in his wheelchair and, with the help of Brian and his dad, Steve, dropped from a 4-ft (1.22-m) quarterpipe. Despite a heavy fall, Aaron dusted himself off and tried again. He was hooked!
Since then, Aaron has gone on to develop and champion the sport of WCMX or wheelchair motocross – an adaptation of skateboarding and BMX stunt-riding for wheelchairs. As his experience in the chair has evolved, so too has the complexity of his tricks, from carving and grinding to hand-planting and power-sliding. There's nothing the fearless Wheelz won't try – an attitude that has propelled him to an international career as an extreme-sports stunt rider.
Wheeling in the records
Aaron earned his first Guinness World Records certificate in 2008 for landing the first wheelchair backflip, which he did at Doc Romeo skatepark in his home city of Las Vegas. He'd actually mastered the wheelchair backflip two years prior to this, but it was his formally documented 2008 flip that set him on the road to becoming an official multiple record-breaker. (It's only fitting that he went on to claim the first wheelchair front flip too, achieved in Auckland, New Zealand, on 9 Feb 2011.)
His next record challenge took him to Rome in Italy on 24 Mar 2010 – his first trip to the Italian capital. There, in front of a TV audience on the set of Lo Show dei Record, Aaron pulled off the highest ramp jump by wheelchair, achieving a clearance of 60 cm (1 ft 11.6 in). He proved to be a big hit with the audience and was back on the same show two years later to attempt the longest duration balancing a side wheelie in a wheelchair, successfully holding his wheelie for a record 18.22 sec.
Aaron's biggest day of record-breaking, though, would come on 20 Jul 2018. At the Woodward West summer camp in Tehachapi, California, under a baking-hot sun, Wheelz set three hair-raising world records at the skatepark there: the longest wheelchair ramp jump (21.35 m; 70 ft), the tallest quarter-pipe drop-in on a wheelchair and the highest wheelchair hand plant (both at 8.4 m; 27 ft 6.7 in).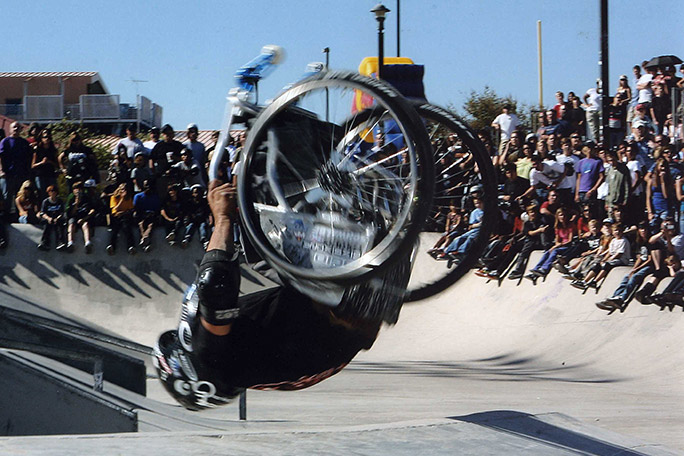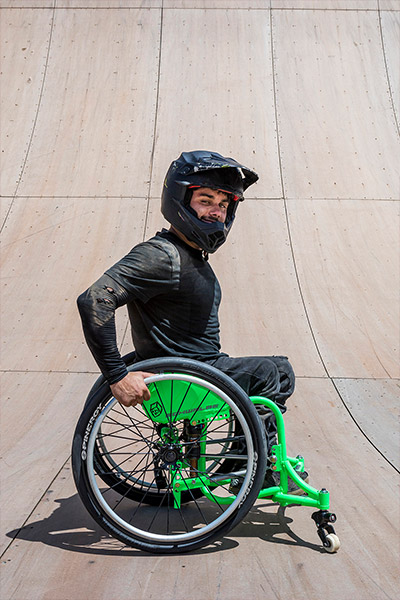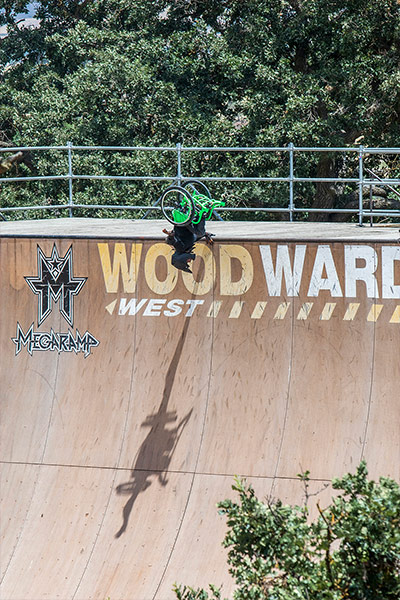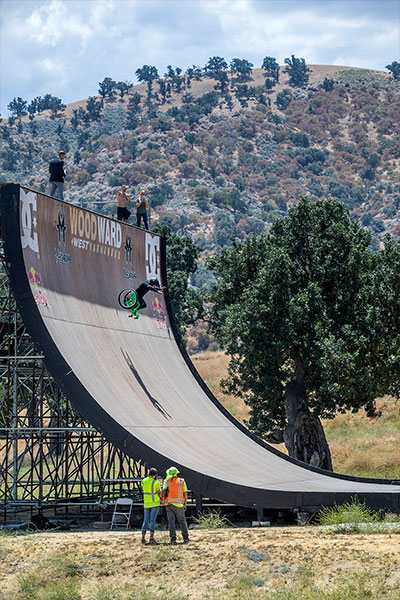 For context, that's a mega-ramp jump with a horizontal distance longer than a bowling alley and a drop-in taller than a giraffe!
Not content with his first two attempts at the ramp jump, Wheelz went all out for his third and final effort… and it was certainly dramatic! With GWR adjudicator Adam Brown watching on in equal parts wonder and horror, Aaron misjudged the jump and caught the knuckle of the ramp, which threw him through the air to the bottom of the quarterpipe. Despite a few cuts and scrapes, he was fine – just one more in a long line of falls and injuries! – and content in knowledge that he'd already earned his place in the record books.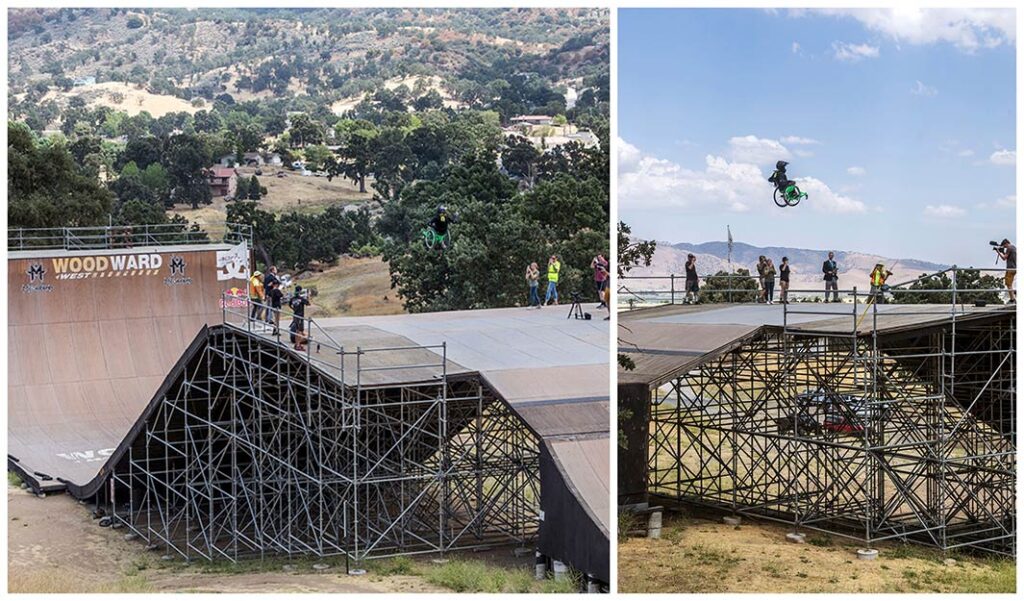 "I got a little caught up in the moment and thought, 'Well, since the first gap worked, why not go for the biggest one?'. When I was up top I had a feeling I might not get the speed but figured there's only one way to find out.
"I went for it and I came up a little bit short which wasn't very good. I cased it and then pretty much bounced all the way to the bottom of the lander. I escaped fairly good with no injuries and we lived to ride another day."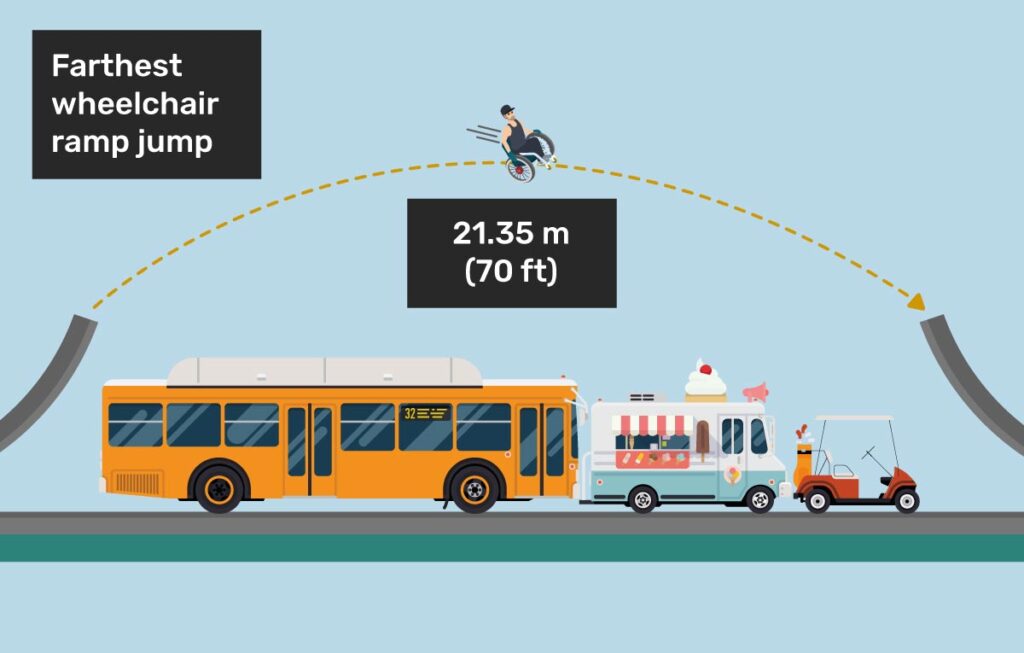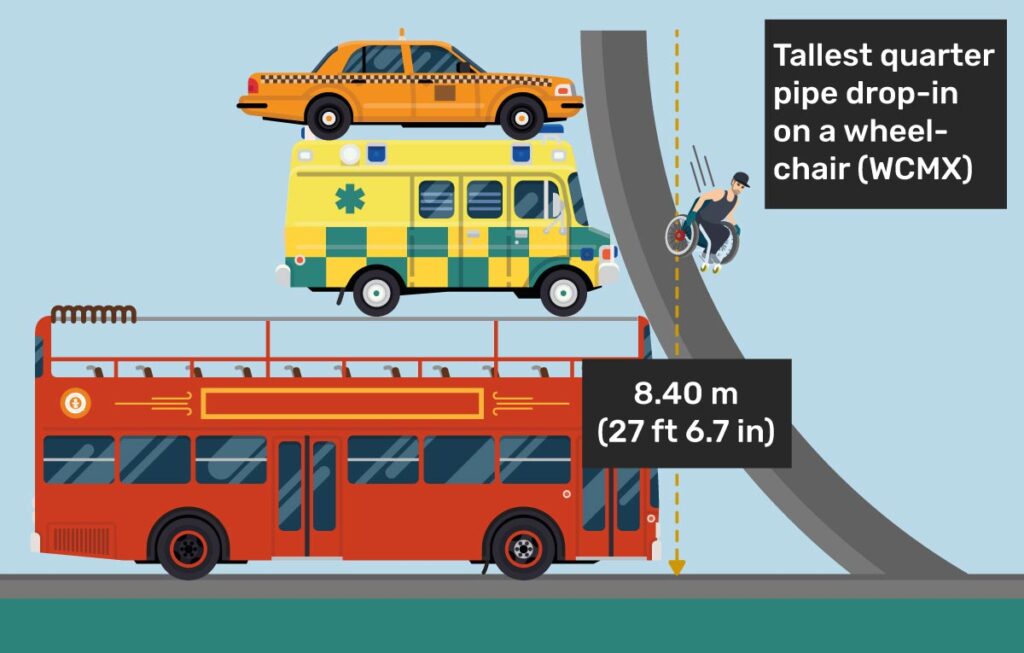 Circus (to the) maximus
Wheelz continues to wow audiences with his incredible skills in his chair, now travelling the world with fellow extreme sports stars in Nitro Circus. To date, he's still the only WCMXer to tackle Nitro Circus's epic Giganta Ramp! "It's the gnarliest!" says Wheelz.
"Nobody has done what I do before me. My friends who are professional BMX athletes give me advice, but they don't really know how to do the tricks with a wheelchair. I have to figure it out on my own. It takes a lot of practice," he said.
He also engages with his audiences and speaks regularly as a champion of disability sports. "A wheelchair may seem like a barrier for some people. To me, it means freedom!"
Aaron's "bombproof" chair Wheelz rides a customized WCMX wheelchair designed with the help of Box Wheelchairs, a US company that rightly lays claim to building the "most radically advanced action sports wheelchairs in the world". His unmistakable bright-green chair is "virtually indestructible", and Aaron has certainly put it to the test! According to Box Wheelchairs owner, Mike Box, "We had to build a bombproof chair that could withstand the torture of the MegaRamp!"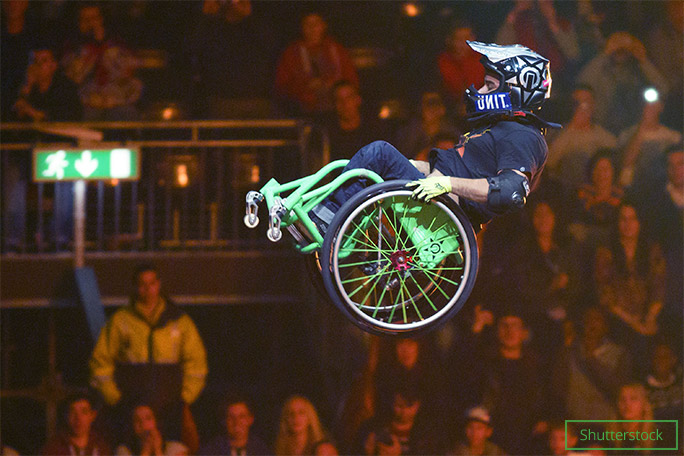 It's a cool feeling to be in a position where kids and adults look up to me, and I can show people that a wheelchair is a bit more than just a medical device; it's actually a tool to help you succeed.

– Aaron Fotheringham
"WCMX has been a great outlet in my life," says Aaron. "It brings a lot of joy to me and I feel like WCMX is a great way for kids and adults to see their wheelchair as more of a gift!"
About This Article:
A Life Worth Living has copied the content of this article under fair use in order to preserve as a post in our resource library for preservation in accessible format. Explicit permission pending.
Link to Original Article: https://www.guinnessworldrecords.com/records/hall-of-fame/aaron-fotheringham-longest-wheelchair-ramp-jump